noun
The definition of a find is something discovered, particularly something of worth and value.

An example of find is a bag that usually sells for $500 purchased for only $50.
verb
Find is defined as to come across something by chance or to locate something that was once lost.

An example of find is to discover $10 lying in the road.
An example of find is to discover missing car keys behind the bookcase.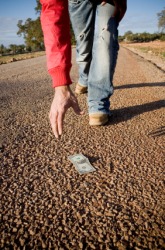 A man finds money on the street.
---
find definition by Webster's New World
transitive verb
found, finding
to happen on; come upon; meet with; discover by chance
to get by searching or by making an effort: find the answer
to get sight or knowledge of; perceive; learn: I find that I was wrong
to experience or feel: to find pleasure in music

to get or recover (something lost): to find a missing book
to get or recover the use of: we found our sea legs

to realize as being; consider; think: to find a book boring
to get to; reach; attain: the blow found his chin
to declare after careful thought: the jury found him innocent
to supply; furnish
Origin: Middle English finden ; from Old English findan, akin to German finden, Gothic finthan ; from Indo-European base an unverified form pent-, to walk, happen upon, find from source Classical Latin pons, a plank causeway, bridge
intransitive verb
to reach and announce a decision: the jury found for the accused
noun
the act of finding
something found, esp. something interesting or valuable
Webster's New World College Dictionary Copyright © 2010 by Wiley Publishing, Inc., Cleveland, Ohio. Used by arrangement with John Wiley & Sons, Inc.
---
find definition by American Heritage Dictionary
verb
found
found
,
find·ing
,
finds
verb
, transitive
To come upon, often by accident; meet with.
To come upon or discover by searching or making an effort: found the leak in the pipe.
To discover or ascertain through observation, experience, or study: found a solution; find the product of two numbers; found that it didn't really matter.

a. To perceive to be, after experience or consideration: found the gadget surprisingly useful; found the book entertaining.

b. To experience or feel: found comfort in her smile.

To recover (something lost): found her keys.
To recover the use of; regain: found my voice and replied.
To succeed in reaching; arrive at: The dart found its mark.
To obtain or acquire by effort: found the money by economizing.
To decide on and make a declaration about: The jury deliberated and found a verdict of guilty. All the jurors found him guilty.
To furnish; supply.

a. To bring (oneself) to an awareness of what one truly wishes to be and do in life.

b. To perceive (oneself) to be in a specific place or condition: found herself at home that night; found himself drawn to the stranger.
verb
, intransitive
To come to a legal decision or verdict: The jury found for the defendant.
noun
The act of finding.
Something that is found, especially an unexpectedly valuable discovery: The Rosetta stone was a providential archaeological find.
Phrasal Verb:
find out
To ascertain (something), as through examination or inquiry:
I found out the phone number by looking it up. If you're not sure, find out.
To detect the true nature or character of; expose:
Liars risk being found out.
To detect and apprehend; catch:
Most embezzlers are found out in the end.
Origin: Middle English finden, from Old English findan; see pent- in Indo-European roots.
Related Forms:
The American Heritage® Dictionary of the English Language, 4th edition Copyright © 2010 by Houghton Mifflin Harcourt Publishing Company. Published by Houghton Mifflin Harcourt Publishing Company. All rights reserved.
---
find - Computer Definition
An external DOS/Windows command that provides a "case sensitive" search for text in a file. Find is also used to locate files based on the text within the file name (see filters and pipes). Grep is the Mac/Unix/Linux counterpart to Find; however, there are third-party grep utilities for Windows as well (see grep). The following example locates all the batch files in the current folder that contain the text XCOPY: find "xcopy" *.bat
Computer Desktop EncyclopediaTHIS DEFINITION IS FOR PERSONAL USE ONLYAll other reproduction is strictly prohibited without permission from the publisher.© 1981-2014 The Computer Language Company Inc. All rights reserved.
---
find - Phrases/Idioms
find oneself
to learn what one's real talents and inclinations are, and begin to apply them
to become aware of being to find oneself in trouble
find out
to discover; learn
to learn the true character or identity of (someone or something)