discovery

dis·cov·er·y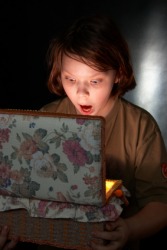 A boy has made a discovery.
noun
The definition of a discovery is something found, invented or uncovered.

An example of a discovery is a species of deep sea crab that was just found.
---
discovery
noun
pl.
-·er·ies
the act of discovering
anything discovered

Archaic

the act of revealing; disclosure

Law

any pretrial procedures, as the taking of depositions, for compelling the disclosure of pertinent factual information
---
discovery
noun
pl.
dis·cov·er·ies
The act or an instance of discovering.
Something discovered.
Law The compulsory disclosure to the opposing party of factual information or documents relevant to a lawsuit prior to trial.
---
discovery

Noun
(countable and uncountable, plural discoveries)
Something discovered.

This latest discovery should eventually lead to much better treatments for disease.

(uncountable) The discovering of new things.

The purpose of the voyage was discovery.
automatic discovery of RSS feeds by a Web browser

(law, uncountable) A pre-trial phase in which evidence is gathered.

The prosecution moved to suppress certain items turned up during discovery.

(law, uncountable) Materials revealed to the opposing party during the pre-trial phase in which evidence is gathered.

The defense argued that the plaintiff's discovery was inadequate.
---
discovery - Computer Definition
---
discovery - Legal Definition
n
In litigation, the compulsory release by a party of documents and other evidence sought by the other party, under rules set by the court. Means of discovery include depositions, written interrogatories, requests for admissions, and requests to produce documents or to inspect property. See also
disclosure
. 
---