contraption
con·trap·tion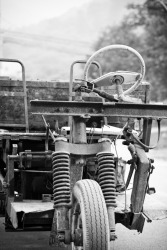 This homemade vehicle is a contraption.
noun
The definition of a contraption is a strange machine, appliance or device used to do something.

A strange little bike that you built yourself to get you from place to place that looks as if it is going to fall apart at any minute is an example of a contraption.
---
contraption
a device or machine regarded as strange, incomprehensible, makeshift, etc.; contrivance or gadget
Origin of contraption
from uncertain or unknown; perhaps con(trive) + trap, noun + -tion
---
contraption
noun
A mechanical device; a gadget.
Origin of contraption
Perhaps mock-Latinate blend of
contrive
trap
1
---
contraption

Origin
Possibly a Western US English dialectical word. Unknown origin. Perhaps from contrive + trap + -tion. Chambers suggests contrivance + adaption . Neither Chambers nor Concise Oxford suggests a US origin. cf cantrip (Scots dialect), a wilful piece of trickery.
---