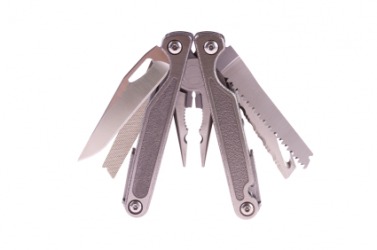 A useful little gadget.
noun
The definition of a gadget is a small, unique-use mechanical or electronic device.

An example of a gadget is a lime squeezer.
---
gadget
any small, esp. mechanical contrivance or device
any interesting but relatively useless or unnecessary object
Origin of gadget
from uncertain or unknown; perhaps French
gâchette
, catch (of a lock), tumbler, diminutive of
gâche
, a bolt, catch
---
gadget
noun
A small specialized mechanical or electronic device; a contrivance.
Origin of gadget
Perhaps originally 19th century glassblowers' jargon
gadget
spring-pressure clip at the end of a punty to hold the foot of a glass being blown without creating a mark
probably from
French
gâchette
pawl, tumbler in a gunlock, strike plate (a metal plate in a door jamb for a hole for receiving the bolt of a lock)
gâche
strike plate, collar or bracket for a pipe
(
from
Middle French
gasche
strike plate, iron hook
) (
from
Old French
calk of a shoe or horseshoe
) (
from
Frankish
gaspia
buckle, clasp
) (Middle Dutch
gespe
) (
probably (with metathesis) from
Germanic
gapsō, *gipsō
) (Old Norse
geispa
to yawn
) (
and
gapa
to gape
)
-ette
diminutive suffix
(
from
Middle French) (
from
Old French; see
-ette
. )
Related Forms:
---
gadget

Origin
Unknown. First used in print by Robert Brown in 1886 (see quote in definition section). Might come from French gâchette or gagée.
---
gadget - Computer Definition
(1) Pronounced "gah-jit," slang for any hardware device, typically small. Synonymous with "gizmo." Smartphones, tablets and portable game and music players are sometimes placed in the gadget category. See fondleslab.
(2) A mini app that stays on screen to provide quick functionality. Search box, clock, weather, calculator and stock market gadgets are typical examples. The gadget may be static, such as a calculator, that requires input from the user, or be "live" and changing such as the weather and stock market. Gadgets were available for Windows Vista and 7, the Google Desktop and the personal home pages of Windows Live and iGoogle. Gadgets are called "widgets" ("wih-jit") on smartphones, tablets, the Mac desktop and other environments. See widget, Sidebar, Google Desktop and iGoogle.
---