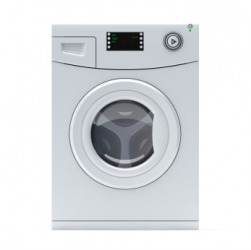 The washing machine is a household appliance.
noun
The definition of an appliance is a piece of machinery that is used to perform a task.

Some examples of appliances include coffee makers, washing machines, and refrigerators.
---
appliance
Rare

the act of applying; application
a device or machine for performing a specific task: stoves, irons, etc. are household appliances
---
appliance
noun
A device or instrument designed to perform a specific function, especially an electrical device, such as a toaster, for household use: a store that sells the newest kitchen appliances.
A dental or surgical device designed to perform a therapeutic or corrective function.
Origin of appliance
From
apply
---
appliance

---
appliance - Computer Definition
---