implement

im·ple·ment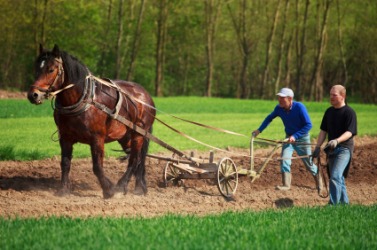 A plow is a farm implement.
noun
The definition of implement is a tool that is used to perform a job.

A plow is an example of a farm implement.
verb
To implement is defined as to put something into effect.

An example of implement is a manager enforcing a new set of procedures.
---
implement
any article or device used or needed in a given activity; tool, instrument, utensil, etc.
any thing or person used as a means to some end
Origin of implement
Middle English from Late Latin
implementum
, a filling up from Classical Latin
implere
, to fill up from
in-
, in +
plere
, to fill: see full
to carry into effect; fulfill; accomplish
to provide the means for the carrying out of; give practical effect to
to provide with implements
---
implement
noun
A tool, utensil, or other piece of equipment used in doing work: a gardening implement.
An article used to outfit or equip someone: ecclesiastical implements.
A means of achieving an end; an instrument or agent.
transitive verb
im·ple·ment·ed, im·ple·ment·ing, im·ple·ments
To put into practical effect; carry out: implement the new procedures.
To supply with implements.
Origin of implement
Middle English
supplementary payment
from
Old French
emplement
act of filling
from
Late Latin
implēmentum
from
Latin
implēre
to fill up
in-
intensive pref.
; see
in-
2
.
plēre
to fill
; see
pelə-
1
in Indo-European roots.
Related Forms:
im′ple·ment′er im′ple·men′tor

noun
---
implement

Noun
(plural implements)
A tool or instrument for working with.

They carried an assortment of gardening implements in the truck.
Origin
From Late Latin implēmentum ("a filling up"), from Latin impleō ("I fill up").
Verb
(third-person singular simple present implements, present participle implementing, simple past and past participle implemented)
to bring about; to put into practice

It's a good thought, but it will be a difficult thing to implement.

to carry out; to do
Usage notes
Objects: plan, programme, strategy, policy, agreement, order, specification, etc.
Origin
From Scottish English or Scots implement ("fulfill")
---