noun
The definition of implement is a tool that is used to perform a job.

A plow is an example of a farm implement.
verb
To implement is defined as to put something into effect.

An example of implement is a manager enforcing a new set of procedures.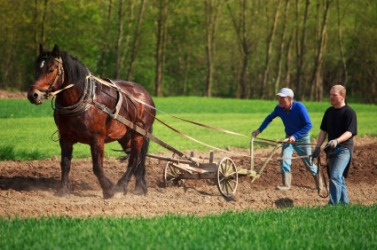 A plow is a farm implement.
---
implement definition by Webster's New World
noun
any article or device used or needed in a given activity; tool, instrument, utensil, etc.
any thing or person used as a means to some end
Origin: Middle English ; from Late Latin implementum, a filling up ; from Classical Latin implere, to fill up ; from in-, in plush plere, to fill: see full
transitive verb
to carry into effect; fulfill; accomplish
to provide the means for the carrying out of; give practical effect to
to provide with implements
Webster's New World College Dictionary Copyright © 2010 by Wiley Publishing, Inc., Cleveland, Ohio. Used by arrangement with John Wiley & Sons, Inc.
---
implement definition by American Heritage Dictionary
noun
A tool or instrument used in doing work: a gardening implement. See Synonyms at tool.
An article used to outfit or equip.
A means of achieving an end; an instrument or agent.
transitive verb
im·ple·ment·ed
,
im·ple·ment·ing
,
im·ple·ments
To put into practical effect; carry out: implement the new procedures.
To supply with implements.
Origin: Middle English, supplementary payment, from Old French emplement, act of filling, from Late Latin implēmentum, from Latin implēre, to fill up : in-, intensive pref.; see in-2 + plēre, to fill; see pelə-1 in Indo-European roots.
Related Forms:
imˈple·mentˌer, imˈple·menˌtor

noun