enforce
[en fôrs′, in-]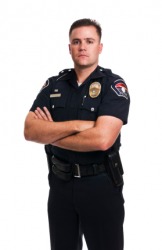 Police enforce the law.
verb
To enforce is described as to compel someone to abide by a rule, law or order.

When the police compel you to obey speed limits or else get a ticket, this is an example of a situation where the police enforce the law.
---
enforce
---
enforce
transitive verb
en·forced
,
en·forc·ing
,
en·forc·es
To compel observance of or obedience to: enforce a law.
To impose (a kind of behavior, for example): enforce military discipline.
To give force to; reinforce: "enforces its plea with a description of the pains of hell" (Albert C. Baugh).
Origin of enforce
Middle English
enforcen
, from Old French
enforcier
,
to exert force, compel,
and from
enforcir
,
to strengthen
:
en-
,
causative pref.
; see
en–
1
+
force
,
strength
; see
force
.
Related Forms:
---
enforce
Verb
(third-person singular simple present enforces, present participle enforcing, simple past and past participle enforced)
Origin
From Old French enforcier, from Late Latin infortiāre, from in- + fortis ("strong").
---