serendipity
ser·en·dip·i·ty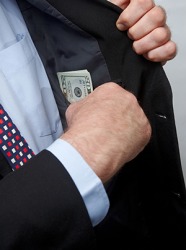 It was serendipity that Dennis found some money in the pocket of his suit jacket that he hadn't worn in two years.
noun
Serendipity is when someone accidently finds something good.

An example of serendipity is finding a twenty dollar bill in the pocket of a coat you haven't worn in awhile.
---
serendipity
a seeming gift for finding something good accidentally
luck, or good fortune, in finding something good accidentally
pl.

-·ties

an instance of finding something good accidentally
Origin of serendipity
coined (
c.
1754) by Horace Walpole after
The Three Princes of Serendip
(i.e., Sri Lanka), a Persian fairy tale in which the princes make such discoveries
---
serendipity
noun
pl.
ser·en·dip·i·ties
The faculty of making fortunate discoveries by accident.
The fact or occurrence of such discoveries.
An instance of making such a discovery.
Origin of serendipity
From the characters in the Persian fairy tale
The Three Princes of Serendip
who made such discoveries
from
Persian
Sarandīp
Sri Lanka
from
Arabic
Sarandīb
ultimately from
Sanskrit
Si&mlowdot;haladvīpah
Si&mlowdot;halah
Sri Lanka
dvīpah
island
; see
Dhivehi
.
Related Forms:
ser′en·dip′i·tous

adjective
ser′en·dip′i·tous·ly

adverb
Word History:
We are indebted to the English author Horace Walpole for the word
serendipity,
which he coined in one of the 3,000 or more letters on which (along with his novel
The Castle of Otranto,
considered the first Gothic novel) his literary reputation rests. In a letter of January 28, 1754, in which he discusses a certain painting, Walpole mentions a discovery about the significance of a Venetian coat of arms that he has made while looking at random into an old book—a method by which he had apparently made other worthwhile discoveries before:
"This discovery I made by a talisman
[a procedure achieving results like a charm]
… by which I find everything I want … wherever I dip for it. This discovery, indeed, is almost of that kind which I call Serendipity, a very expressive word."
Walpole formed the word on an old name for Sri Lanka,
Serendip.
He explained that this name was part of the title of
"a silly fairy tale, called
The Three Princes of Serendip:
as their highnesses travelled, they were always making discoveries, by accidents and sagacity, of things which they were not in quest of&ellipsis4;"
---
serendipity

Noun
(countable and uncountable, plural serendipities)
An unsought, unintended, and/or unexpected, but fortunate, discovery and/or learning experience that happens by accident.
A combination of events which are not individually beneficial, but occurring together produce a good or wonderful outcome.
Usage notes
Serendipity is sometimes used loosely as a synonym for luck; more careful usage, particularly in science, emphasizes specifically "finding something when looking for something else, thanks to an observant mind".
The term was virtually unknown until the 1870s, and gained currency in the early 20th century. It became popularized at mid-century, and is now widely used.
Antonyms
Murphy's law
perfect storm
Origin
From Serendip ("variant of Serendib: Ceylon, Sri Lanka") +"Ž -ity. Coined by Horace Walpole in 1754 based on the Persian story of The Three Princes of Serendip, who (Walpole wrote to a friend) were "always making discoveries, by accidents and sagacity, of things which they were not in quest of".
---