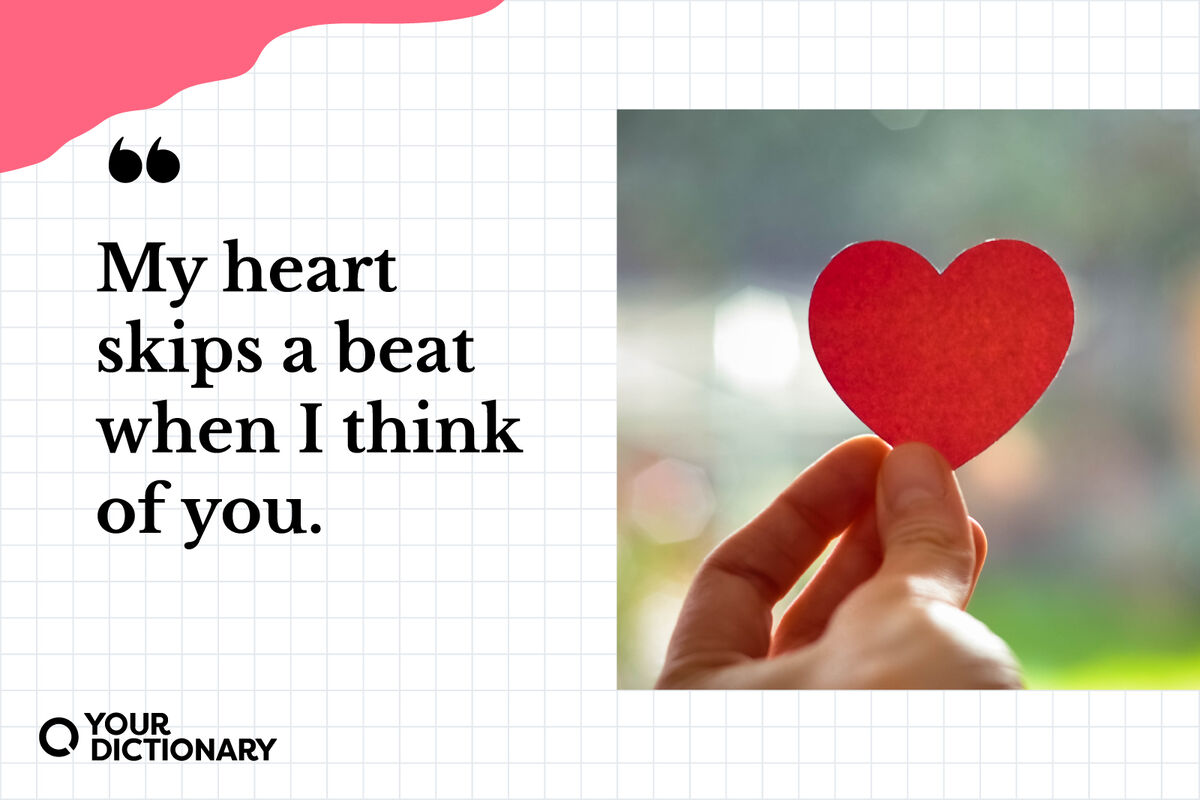 Looking for a way to tell the special lady in your life know how you feel? If you're finding it challenging to find the right words to express your emotions, consider sharing a few love quotes with the one you love. She's sure to be touched by your romantic gesture and appreciate how hard you worked to find just the right thing to say.
Sweet Love Quotes for Her
Opt for a sweet love quote when you're looking for a lighthearted way to let your special lady know that you love her and think that she's special. These original sweet romantic sayings are perfect for that purpose.
My heart skips a beat when I think of you.
I'd follow you to Mars.
You are my heart and my soul.
Loving you is an art form.
I can feel you even when you're not here.
To me, you are on a pedestal.
You bring me joy.
You and I, we just fit.
We're a perfectly matched pair.
You're the better part of me.
You've been my sweetheart from the start.
I loved you before I knew you existed.
I want to make you feel safe and loved.
Your love makes me feel invincible.
You alone hold the key to my heart.
You warm my heart and fill my soul.
You're like sunshine after weeks of rain.
Your embrace feels like home.
You're the belle of the ball.
I can't wait to do more life with you.
Funny Love Quotes for Her
If you're not comfortable with emotional language or are just looking for something fun to say, you might prefer a more humorous phrase. The silly quotes below might be more to your liking. Or, for even more humorous options, check out some love idioms.
I love you more than fishing.
I'll give up NFL Sunday Ticket for you.
I met your entire family and I still love you. Nothing will change my mind.
Even chores are fun when we're together.
You're the best nap buddy in the world.
I'd be blue without you.
Like birds of a feather, we flock together.
I call you honey because you're so sweet.
You're sweeter than pie.
You're my little pumpkin pie.
You're the queen of our castle.
You're my cutie patootie.
You're the secret sauce in my recipe for a happy life.
You're the sweetness to my sour.
You put the happy in happy hour.

I'll share my man cave with you.
Let's hibernate together!
"There's a lid for every pot." - 44 Charles Street, Danielle Steel

"She has to agree to have me. It could take some time, but I'm confident I can trick her into it." - Promise Canyon, Robyn Carr
"Real love conquers all — except poverty and toothache." - Mae West
Flowery Love Quotes for Her
Giving flowers is a common romantic gesture. The next time you give flowers to the love of your life, include a romantic quote with a floral theme. Or, simply share a message that conjures the colorful, botanical beauty of flowers.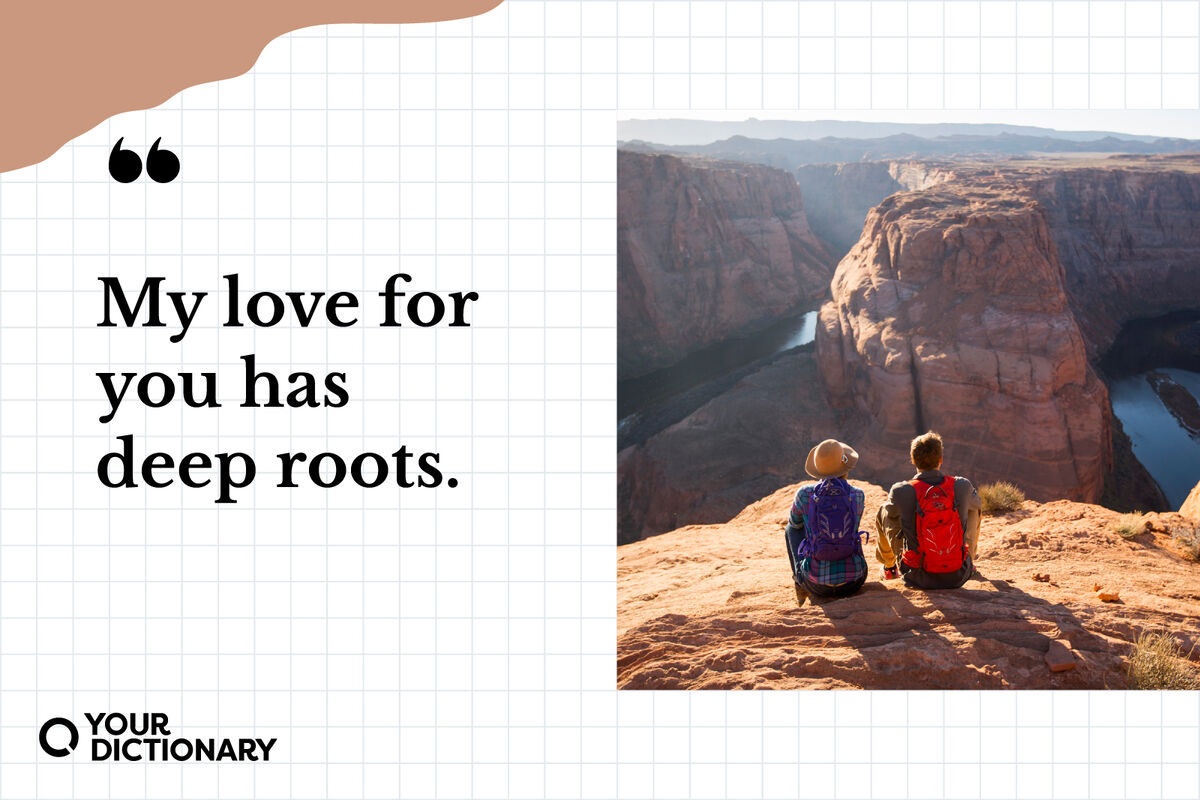 My love for you has deep roots.

I couldn't blossom without you.

Thanks to you, love is in bloom in my life.
My love for you grows faster than kudzu.

You're the rarest botanical in a sea of weeds.
You are as bold and beautiful as a bed of roses.
Like a lovely flower, you become all the more beautiful as the seasons change.
Every day with you is like a spring day in a field of wildflowers.
Like a floral bouquet, you bring color to the world.
You bring an explosion of color and fragrance into my life.
You've turned my life into a floral display.
My love is as perennial as these daisies.
Life with you is like floating on a bed of roses in a sea of sunshine.
Like a flower, you're both tough and beautiful. I love both sides of you.
Even your thorns are beautiful.
You're a pollinator for my love.
You smell like summer flowers after a rain.
I love you bigger than a mammoth sunflower.
You're lovelier than any lilies could ever be.

Like a field of flowers, our love has grown strong enough to weather any storm.

Your smile warms my heart and makes me think of the first flowers of spring.
Unconditional Love Quotes for Her
If you want the one you love to know how much you care, find a way to let her know that you will always love her no matter what the future may bring. Expressing your unconditional love can help strengthen the trust and sense of security in your relationship with the one you love.
I will love you until time stands still.
I will love you to the edges of the Earth and beyond.
Nothing can change the love I feel for you.
I will stand by you through anything.
I would love you through endless lifetimes.
Our love story is endless.
I accept and love all of you. Nothing can shatter a love so true.
Our love is a process; it is ongoing and enduring with no definite end or beginning.
Unconditionally, unforgettably, passionately, and all encompassingly. That's how I love you.
I love you with a mature, stable love that will never end. I will always be here for you.
Wherever you go, whatever you do, I will love you your whole life through.
Our love is locked in; it is impenetrable and unbreakable.
We're solid like Fort Knox. Nothing can break or bond.
I adore all that you are, everything you are today and everything you will ever be.

Whatever the future brings, whether joy or things that sting, my love for you will always be true.

Nothing could be done to change how I feel about you. To me, you are the one.
"Ever thine, ever mine, ever ours." - Ludwig van Beethoven
"I love you and I will until the end of time." - Until the End of Time, Danielle Steel
"Love is a shooting star that lands in your heart, and lives forever." - Until the End of Time, Danielle Steel
"I was doomed without her. She's the breath in me." - Angel's Peak, Robyn Carr,
Emotional Love Quotes for Her
There's not much more appealing to a woman in love than receiving a sincere emotional message from her partner.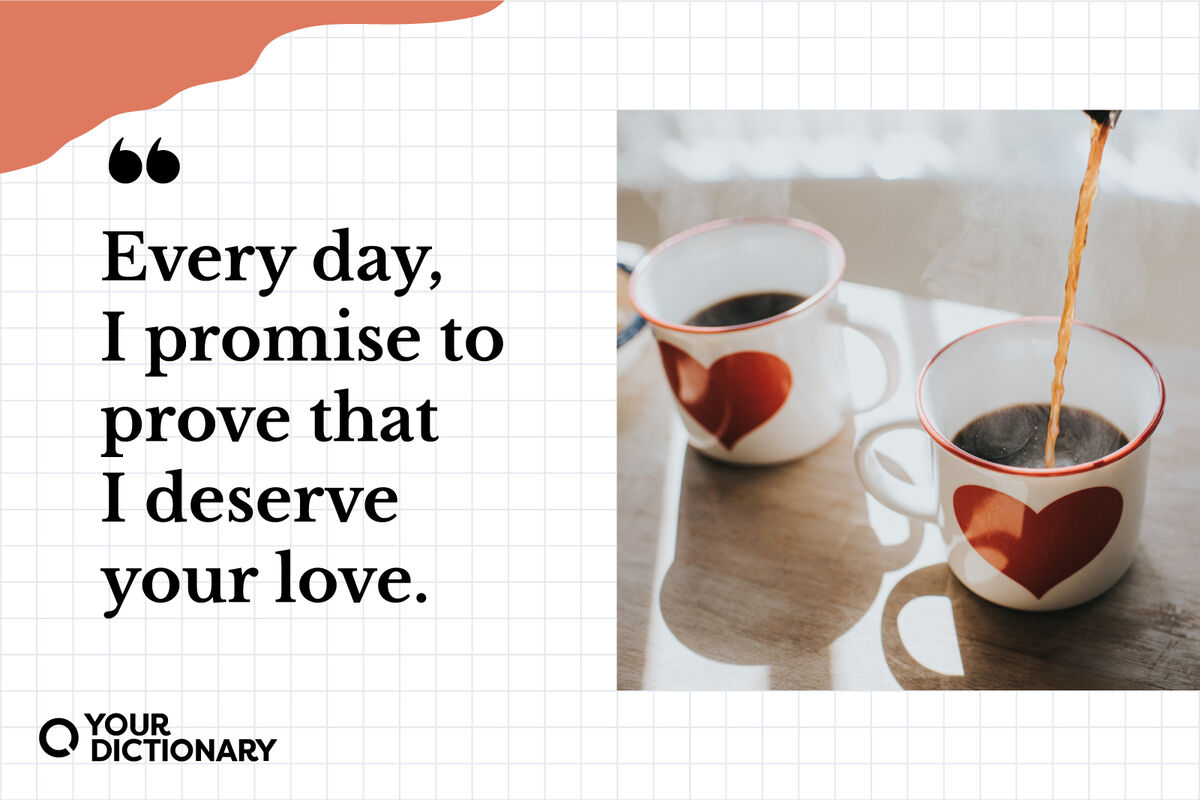 Every day, I promise to prove that I deserve your love.

You're the answer to questions I've been asking my whole life.

You are what has been missing all my life.
I trust you with my heart and soul.
With all that I have and all that I am, I love you as much as it is possible to love another person.
I was lost before you crossed the threshold of my heart.
You saved me from myself.
With every moment that passes, I love you even more.
Every day with you is a celebration of love.
Which each passing moment, I discover more about what it feels like to be loved by you.
With you, I'll never feel cold or alone. You bring warmth to my heart and life to my home.
I don't know what I did to deserve you. Whatever it was, I'd do it a million times again.
I trust you with all that I am and all that I have. My heart belongs to you.

I did not know what real love felt like until you came into my life.
"We accept the love we think we deserve." - The Perks of Being a Wallflower, Stephen Chbosky
"She had become the answer to prayers he hadn't known he whispered." Wild Man Creek, Robyn Carr,
"Sometimes, we can't trust our own vision. We have to see the good another sees in us." - Never Tell, Selena Montgomery
"To love, and to be loved, is the greatest happiness of existence." - Lady Holland's Memoir, Sydney Smith
"Love is that condition in which the happiness of another person is essential to your own." - Stranger in a Strange Land, Robert A. Heinlein
"Open the door of thy heart, / And open thy chamber door, / And my kisses shall teach thy lips / The love that shall fade no more" - "Bedouin Love-Song," Bayard Taylor
Affection is an important part of a romantic relationship. Remind your loved one just how much affection you harbor for her in your heart with one of the quotes below.
The touch of your hand sends chills up my spine.
You are dear to my heart.
You're the queen of my heart.
I could spoon with you until the end of time.

Holding your hand makes me feel alive.
I want to hold you close and never let go.
When the world is too much to face, there's nowhere I'd rather be than in your embrace.
Touching you makes me feel grounded.
Being held by you heals my soul.
You make my heart happy.

Seeing your eyes light up when I walk into a room is like winning the lottery.
The smile on your face brings me joy.

I can feel your smile from miles away.
Knowing you are near me makes me happy.

Hold me now, hold me forever.
You're the air that fans the flame of my affection.
I am overwhelmed with the affection you show to me.

"Talk not of wasted affection, affection never was wasted" - "Evangeline: A Tale of Acadie," Henry Wadsworth Longfellow
"If equal affection cannot be, / Let the more loving one be me." - "The More Loving One," W.H. Auden
"I was born with an enormous need for affection, and a terrible need to give it." - Audrey Hepburn
Madly in Love Quotes for Her
Are you madly in love with her? If you are, and you're ready to let her know how strong your feelings are, consider one of the quotes below. They're about strong, passionate love.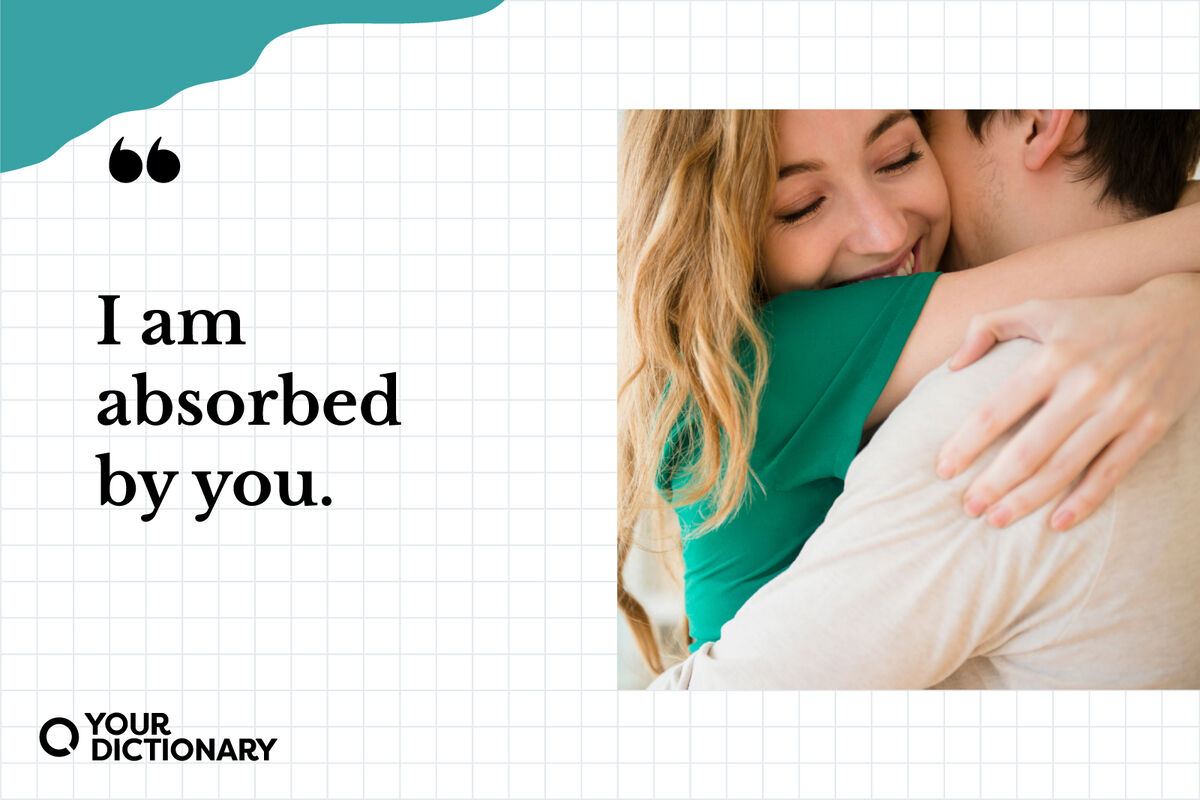 I am absorbed by you.
I am truly, deeply, madly, and passionately in love with everything about you.
I know you and you know me, the love we share is real and deep. Together forever, that's how things will always be.
You have taken my breath away and swept me off my feet, forever and a day I knew we'd be together from the moment we did meet.
Without you, my life felt empty. With you, it is bursting at the seams with love.
There is no journey I wouldn't take if you would be waiting for me at the end.
I love you madly, so much sometimes that it overwhelms me.
I know you don't need me to take care of you, but I feel driven to do so.
There is nothing I truly need in this life other than your love.
"No measure of time with you will be long enough, but we'll start with forever." – Breaking Dawn, Stephenie Meyer

"I love you the way a drowning man loves air. And it would destroy me to have you just a little." - The Crown of Embers, Rae Carson
"You are the one girl that made me risk everything for a future worth having." - Perfect Chemistry, Simone Elkeles
"You have bewitched me, body and soul, and I love, I love, I love you. I never wish to be parted from you from this day on." - Pride and Prejudice, Jane Austen

"When love is not madness, it is not love." - Pedro Calderón De La Barca
"There is never a time or place for true love. It happens accidentally, in a heartbeat, in a single flashing, throbbing moment." - The Truth About Forever, Sarah Dessen
"I am to take mademoiselle to the moon, and there I shall seek a cave in one of the white valleys among the volcano-tops, and mademoiselle shall live with me there, and only me." Jane Eyre, Charlotte Brontë
"I am not asking you to walk away from your path, but you cannot stop me from changing mine to be near you!" - Girl Over God: The Novel, Abhijit Naskar
"It was love at first sight, at last sight, at ever and ever sight." - Lolita, Vladimir Nabokov
"When you are madly in love with someone, even when sanity tries to rescue you, you wrestle it."- Matshona Dhliwayo
"In a universe of ambiguity, this kind of certainty comes only once, and never again, no matter how many lifetimes you live." - The Bridges of Madison County, Roberr James Waller
Meaningful Love Quotes for Her
If you're looking for a gentler, yet meaningful message, option for one of the passages below. These meaningful quotes provide a heartwarming, romantic perspective on love.
You inspire me.
My heart belongs to you.
The joy of knowing you makes me a better person.
I strive to be a better man to be worthy of your love.
You are the girl of every dream I will ever have.
My heart overflows with love for you.
I have no doubt that you're the central character in whatever the story of my life is really about.

The moment I saw you, my heart stopped for a moment and skipped a beat. I knew that my life had been forever changed.

"Who, being loved, is poor?" - Oscar Wilde
"Love is dynamic and requires action to thrive." - PsychAlive
"One word Frees us of all the weight and pain of life: That word is love." - Sophocles
"Love is a two-way street constantly under construction." - Carroll Bryant
"Love is like the wind, you can't see it but you can feel it." A Walk to Remember, Nicholas Sparks

"As he read, I fell in love the way you fall asleep: slowly, and then all at once." - The Fault in Our Stars, John Green
"Love looks not with the eyes but with the mind." - A Midsummer Night's Dream, William Shakespeare
"You don't love someone because they're perfect, you love them in spite of the fact that they're not."- My Sister's Keeper, Jodi Picoult
"Love is an act of faith, and whoever is of little faith is also of little love." - The Art of Loving, Erich Fromm
"The good life is one inspired by love and guided by knowledge." - What I Believe, Bertrand Russell
"Love shall be our token; / Love shall be yours and love be mine." - "Love Came Down at Christmas," Christina Rossetti
"How do I love thee? Let me count the ways. / I love thee to the depth and breadth and height / My soul can reach, when feeling out of sight" "How Do I Love Thee? (Sonnet 43)," Elizabeth Barrett Browning
The deep love quotes for her ponder romantic love from a deep perspective. If you're interested in starting a conversation about what it really means to be in love, the quotes below may provide a perfect segue into such a discussion.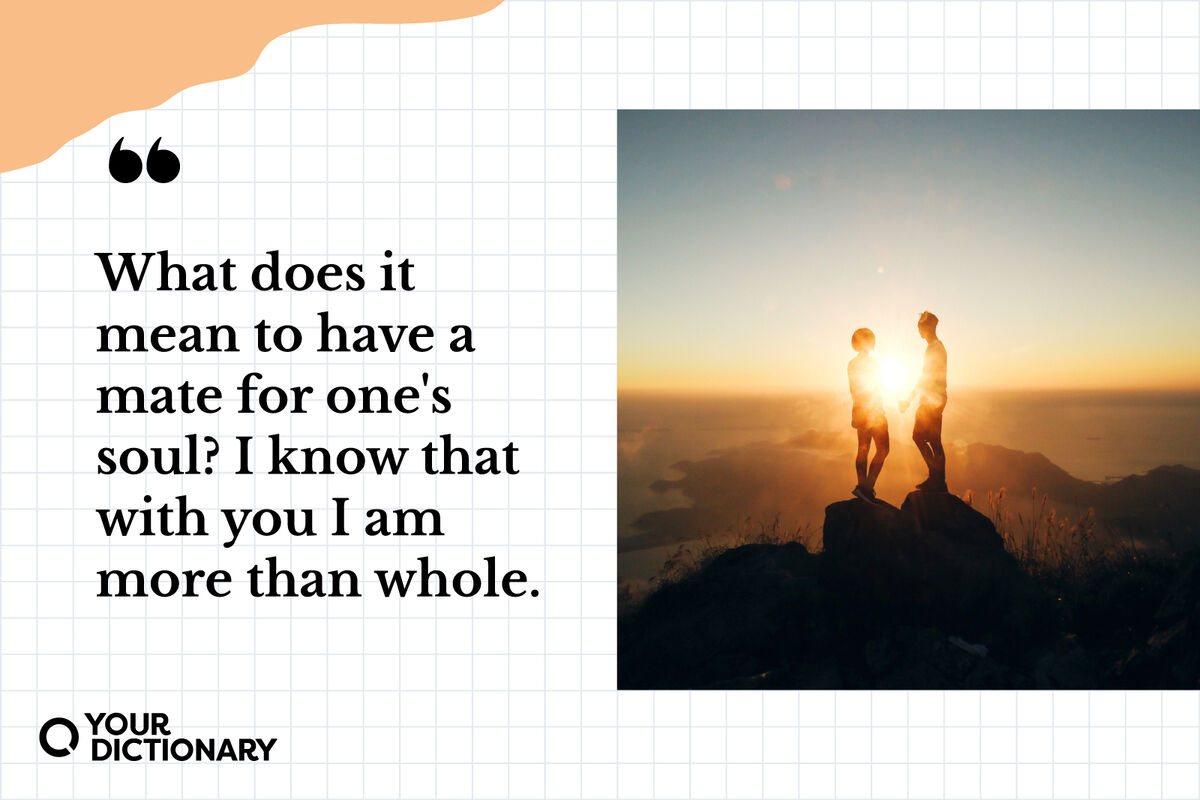 Is there a perfect match for everyone? I do not know. What I do know is that you are the perfect match for me.
The one you love has the power to bring you great joy or to destroy you completely. I vow to always bring you joy.
Hearts and flowers are lovely, but they're not the stuff that love is made of. Trust, honesty, vulnerability, and realness. Those are the building blocks of true love.
What does it mean to have a mate for one's soul? I know that with you I am more than whole.
Love is the magic that comes when two souls destined to be together find each other in this crazy world.
I always insulated myself against love to avoid the risk of a broken heart. With you, I realize that I was avoiding a complete heart. You make me whole.
Is life a puzzle to solve? Are you the answer to the question of why I exist?
"The heart has its reasons which reason knows not." - Blaise Pascal
"To love at all is to be vulnerable." - The Four Loves, C.S. Lewis

"It is better to be hated for what you are than to be loved for what you are not." - Autumn Leaves, Andre Gide
"One is loved because one is loved. No reason is needed for loving." - The Alchemist, Paulo Coelho
"Hatred paralyzes life; love releases it. Hatred confuses life; love harmonizes it. Hatred darkens life; love illuminates it." - Strength to Love, Martin Luther King, Jr.
"You could never predict what would happen. There was an element of destiny in everything that one could never account for." - Legacy, Danielle Steel
"Those who have never known the deep intimacy and the intense companionship of mutual love have missed the best thing a life has to give." - Bertrand Russell

"The moods of love are like the wind, / And none knows whence or why they rise" - "The Angel in the House," Coventry Patmore
"Lovers who love truly do not write down their happiness." - The Crime of Sylvestre Bonnard, Anatole France
"It is an absolute human certainty that no one can know his own beauty or perceive a sense of his own worth until it has been reflected back to him in the mirror of another loving, caring human being." - The Secret of Staying in Love, John Joseph Powell
Quotes About Love Growing From Friendship
Many romantic relationships start out as friendships. If that's the situation with you and the woman in your life, consider one of these lovely sayings about true love that evolves from friendship.
(You + Me) + (Friendship + Time) = Everlasting Love
What an amazing journey we have shared on our path to love.
What an incredible gift, to fall in love with my best friend.
From childhood friends to a lifelong love that will never end.
There is no stronger love than one that kindles from friendship before igniting romance.
The day I realized that I'm in love with you is the day my life began to make sense.
Why did it take me so long to realize that I've loved you for most of my life?
How did I go so many years without realizing that you are the one for me?
What better foundation to build a relationship on than true friendship?
From best friend to true love. How did I get so lucky?
Being in love won't ruin our friendship; it will only make it stronger.
I know where you've been all my life; we've been friends forever and now I hope you will agree to be my wife.

Our friendship grew and evolved over the years until now, I love you totally, without reservation or fear.

How lucky am I that this incredible woman who has long been my friend turns out to be the love of my life?
We really knew each other really well before our first date, so there were no games and no illusions. That's the formula for true love.
"I realized I'm in love. It's always been right in front of me." - The Indigo Spell, Richelle Mead

Romantic Quotes for Her From Movies
Sometimes you don't need to look beyond the big screen to find the perfect quote to express your love. These lovey-dovey quotes from contemporary and classic movies are perfect for memorable moments in your relationship.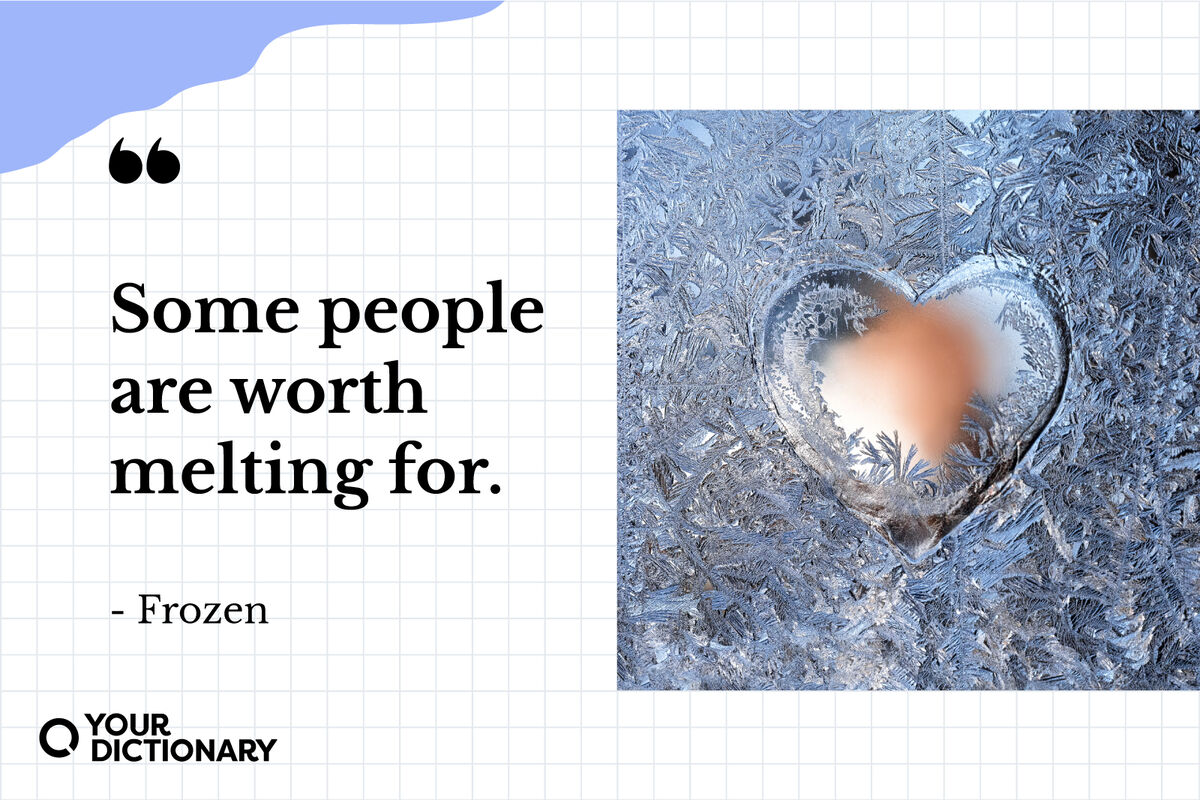 "You had me at hello." - Jerry Maguire
"To me, you are perfect." - Love, Actually
"I'm not a smart man, but I know what love is." - Forrest Gump
"I'll never let go." - Titanic
"Here's looking at you, kid." - Casablanca
"Some people are worth melting for." - Frozen
"I think I'd miss you even if we'd never met." - The Wedding Date
"This is true love. You think this happens every day?" - The Princess Bride
"Love means never having to say you're sorry." - Love Story
"You make me want to be a better man." - As Good as It Gets

"I have to protect the one thing that I can't live without. That's you." - Iron Man 3
"Storm clouds may gather and stars may collide, but I love you until the end of time." - Moulin Rouge
"You want a good life? It's not complicated. Tell the girl you love that you love her." - Yesterday
"Life gives you lots of chances to screw up which means you have just as many chances to get it right." - Sex and the City
"I dream of a love that even time will lie down and be still for." - Practical Magic
"Maybe it is our imperfections which make us so perfect for one another." - Emma
" Before you came into my life I could make all kinds of decisions, now I can't, I'm addicted, I have to know what you think!" - Two Weeks Notice
"I came here tonight because when you realize you want to spend the rest of your life with somebody, you want the rest of your life to start as soon as possible." - When Harry Met Sally

"If you love someone you say it, you say it right then, out loud. Otherwise, the moment just passes you by." - My Best Friend's Wedding
"It's like in that moment the whole universe existed just to bring us together." – Serendipity
"I would rather have had one breath of her hair, one kiss of her mouth, one touch of her hand, than eternity without it. One." - City of Angels

"It's only in the mysterious equation of love that any logic or reasons can be found." - A Beautiful Mind
"Love is too weak a word for the way I feel. I lurve you, you know, I loave you, I luff you, with two F's." - Annie Hall
"Only one is a wanderer; two together are always going somewhere." - Vertigo
"You want the moon? Just say the word, and I'll throw a lasso around it and pull it down." - It's a Wonderful Life
Romantic Quotes From Songs for Her
Songs provide a unique way to express emotions using a unique combination of poetry and music. There are many romantic lyrics to consider. If you and your loved one share a special song, you may want to choose a stanza from that tune. Otherwise, consider one of the romantic excerpts from popular songs listed below.
"To the world/ You may be just another girl/ But to me/ Baby, you are the world" - "The World," Brad Paisley
"Shine on us all, set us free/ Love is the answer" - "Love Is the Answer," England Dan and John Ford Coley
"Love is a flower/ You got to let it, you gotta let it grow" - "Mind Games," John Lennon
"'Cause all of me/ Loves all of you/ Love your curves and all your edges/ All your perfect imperfections" - "All of Me," John Legend
"I'm thinking out loud/ That maybe we found love right where we are" - "Thinking Out Loud," Ed Sheeran
"The smile on your face lets me know that you need me/ There's a truth in your eyes saying you'll never leave me" - "When You Say Nothing at All," Keith Whitley
"And I love you best./ You're not like the rest." - "Lady," The Little River Band
"You're the closest to heaven that I'll ever be/ And I don't want to go home right now" - "Iris," Goo Goo Dolls
"I could not love you any better/ I love you just the way you are." - "Just the Way You Are," Billy Joel
"Lady, I'm your knight in shining armor and I love you/ You have made me what I am and I am yours." - "Lady," Kenny Rogers
"Could I have this dance, for the rest of my life" - "Could I Have This Dance," Anne Murray
"If you fall, I will catch you, I'll be waiting/ Time after time" - "Time After Time," Cyndi Lauper
"Baby, I can see your halo/ You know you're my saving grace" - "Halo," Beyoncé
"There's a freedom in your arms/ That carries me through/ I need you" - "I Need You," Lee Ann Rimes
"You will always be the miracle/ That makes my life complete/ And as long as there's a breath in me/ I'll make yours just as sweet" - "I Cross My Heart," George Strait
"You hit me like fire, shot me like a bullet./ Burned me up and down, no way to cool it./ But every time you kiss me it's like sunshine and whiskey." - "Sunshine and Whiskey," Frankie Ballard
"And when you smile/ The whole world stops and stares for a while/ 'Cause girl, you're amazing/ Just the way you are" - "Just the Way You Are," Bruno Mars
"And now you're my whole life/ Now you're my whole world/ I just can't believe the way I feel about you, girl" - "Then," Brad Paisley

"You fill my heart with gladness/ Take away all my sadness/ Ease my troubles, that's what you do" - "Have I Told You Lately," Rod Stewart
You're still the one that makes me strong/ Still the one I want to take along/ We're still having fun, and you're still the one" - "Still the One," Orleans
"Yours are the sweetest eyes I've ever seen"- "Your Song," Elton John
"We go to a party/ And everyone turns to see/ This beautiful lady/ That's walking around with me" - "Wonderful Tonight," Eric Clapton
"Love me tender,/ Love me sweet,/ Never let me go" - "Love Me Tender," Elivs Presley
"Wise men say only fools rush in/ But I can't help falling in love with you" - "Can't Help Falling in Love," Elvis Presley
"I can hear her heart beat for a thousand miles/ And the heaven's open every time she smiles" - "Crazy Love," Van Morrison

Note every love quote is brief. The quotes listed below are longer than the others, but their deep and heartfelt messages require a bit of verbosity. Depending on the message you wish to share, one of these longer quotes might meet your needs.
There are no words to describe how much I love you and all the things I love about you. You are beautiful inside and out. You are patient, kind, loving, and special. I could use all of the beautiful words in every language on Earth and still I would not be able to truly convey just how very much you are loved by me. All that you are and all that you will ever be, everything about you is extraordinarily special to me.
Truly I do not know what I did to deserve the love of such an incredible woman. I don't tell you often enough how happy you make me and how grateful I am to have you in my life. If I could have ordered a perfect partner to be custom-made just for me, the end result would have been a person who is 100 percent exactly like you. I love you.
All the days of my life, I will strive to be worthy of the love you have entrusted in me. I don't take your love lightly, nor do I take it for granted. I plan to spend every day I walk this earth demonstrating to you that your decision to let me be a part of your life was a good choice to make. I will love you from here to eternity and count myself lucky that you love me too.
"Love is patient, love is kind. It does not envy, it does not boast, it is not proud. It is not rude, it is not self-seeking, it is not easily angered, it keeps no record of wrongs. Love does not delight in evil but rejoices with the truth. It always protects, always trusts, always hopes, always perseveres." - The Holy Bible, 1 Corinthians 13:1

"From her lips came the word I never dared speak. O nights, O darkness warm and shared, O love that flows in shadows like some secret river, O that instant of ecstasy when each is both, O that ecstasy's purity and innocence, O the coupling in which we be- came lost so as then to lose ourselves in sleep, O the first light of dawn, and I watching her." - The Book of Sand, Jorge Luis Borges

"I love you without knowing how, or when, or from where, / I love you directly without problems or pride: / I love you like this because I don't know any other way to love, / except in this form in which I am not nor are you, / so close that your hand upon my chest is mine, / so close that your eyes close with my dreams." - 100 Love Sonnets, Pablo Neruda
"Love ... is not unreasonable; it is not blind. It is pure and holy. But the passion of the natural heart is another thing altogether. While pure love will take God into all its plans, and will be in perfect harmony with the Spirit of God, passion will be headstrong, rash, unreasonable, defiant of all restraint, and will make the object of its choice an idol. In all the deportment of one who possesses true love, the grace of God will be shown." - Ellen White
"Age cannot Love destroy, / But perfidy can blast the flower, / Even when in most unwary hour / It blooms in Fancy's bower. / Age cannot Love destroy, / But perfidy can rend the shrine / In which its vermeil splendours shine." - "Love's Rose," Percy Bysshe Shelley
When you're searching for words of love, there is no limit to where you might find quotes to enhance the message you wish to share with the special woman in your life. There are so many different ways to verbalize your feelings with the special lady in your life. For even more ideas, review these expressions of love in words.