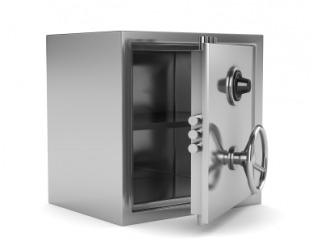 This safe is for storing valuables.
adjective
The definition of safe is free from risk, danger, harm or damage.

An example of safe used as an adjective is the phrase "safe haven," which means a place where people can go if there is an emergency.
noun
Safe is defined as a storage place for valuables, usually locked and made of metal.

An example of a safe is a locker.
---
safe
adjective
saf′er

,

saf′est
free from damage, danger, or injury; secure
having escaped danger or injury; unharmed

giving protection
involving no risk, often, specif., because well-founded: it's safe to say his recklessness will get him in trouble some day
trustworthy

no longer dangerous; unable to cause trouble or damage: safe in jail
taking no risks; prudent; cautious: said of persons

Baseball

having reached a base without being put out
Origin of safe
Middle English
sauf
from Old French from Classical Latin
salvus
, akin to
salus
, health, sound condition from Indo-European base an unverified form
solo-
, whole, well-preserved from source Classical Greek
holos
, whole, Sanskrit
sarva
, unharmed, whole
a container or box, capable of being locked and usually of metal, in which to store valuables
any compartment, box, etc. for storing food, etc.: a meat safe

Slang

a condom
Origin of safe
altered (after the
adj.
) < earlier
save
< save
---
safe
adjective
saf·er, saf·est
a. Free from danger or injury; undamaged or unhurt: He returned from the voyage safe and sound.

b. Not exposed to the threat of danger or harm: The children were safe at home all through the storm.

c. Usable in specified conditions without being damaged. Often used in combination: a microwave safe container.

Free from risk; not liable to be lost; sure: a safe bet.
Affording protection: a safe place.
Baseball Having reached a base without being put out, as a batter or base runner.
noun
A metal container usually having a lock, used for storing valuables.
A repository for protecting stored items, especially a cooled compartment for perishable foods: a cheese safe.
Origin of safe
Middle English
sauf
from
Old French
from
Latin
salvus
healthy
; see
sol-
in Indo-European roots.
Related Forms:
---
safe

---