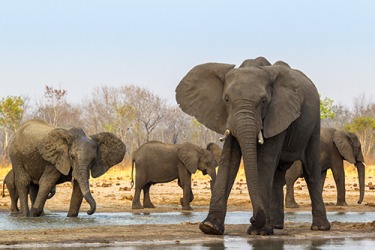 The elephant family is protected from poachers in the refuge.
noun
Refuge is defined as a place where you are sheltered from danger, or to the condition of being sheltered from danger.

An example of refuge is what you seek when you go to a church and ask them to protect you from rioters outside.
An example of refuge is a church that provides a place safe from danger.
---
refuge
shelter or protection from danger, difficulty, etc.
a person or thing that gives shelter, help, or comfort
a place of safety; shelter; safe retreat
an expediency or shift; action taken to escape trouble or difficulty
Origin of refuge
Old French from Classical Latin
refugium
from
refugere,
to retreat from
re-,
back +
fugere,
to flee: see fugitive
transitive verb
-·uged·

,

-·ug·ing
Archaic
to give refuge to
---
refuge
noun
Protection or shelter, as from danger or hardship: sought refuge from the storm in a cabin.

a. A place providing protection or shelter: a colony that was a refuge for religious nonconformists.

b. An undeveloped area for the preservation of animals and plants.

A source of help, relief, or comfort in times of trouble: "Reva's love was her refuge from shame and degradation" ( Richard Wright ) See Synonyms at shelter.
Origin of refuge
Middle English
from
Old French
from
Latin
refugium
from
refugere
to run away
re-
re-
fugere
to flee
---
refuge

Verb
(third-person singular simple present refuges, present participle refuging, simple past and past participle refuged)
(intransitive) To return to a place of shelter.
Origin
From Old French refuge.
---