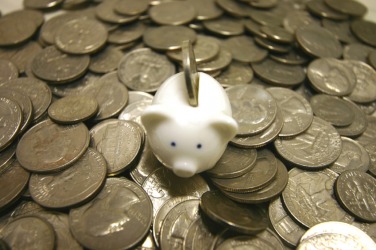 Having extra money in your savings is a resource.
noun
The definition of a resource is something that is ready to use if or when it is needed.

An example of resource is extra money in a savings account.
An example of resource is a friend with electrical skills who has volunteered to help install a lighting fixture.
An example of resource is spring water on a piece of land.
---
resource
something that lies ready for use or that can be drawn upon for aid or to take care of a need
[pl.] available money or property; wealth; assets
[pl.] something that a country, state, etc. has and can use to its advantage: natural resources, including coal and oil
a means of accomplishing something; measure or action that can be resorted to, as in an emergency; expedient
[pl.] a source of strength or ability within oneself
ability to deal promptly and effectively with problems, difficulties, etc.; resourcefulness
Origin of resource
French
ressource
from Old French from
resourdre,
to arise anew from
re-
, again +
sourdre,
to spring up from Classical Latin
surgere:
see surge
---
resource
noun
Something that is available for use or that can be used for support or help: The local library is a valuable resource.
often resources An available supply, especially of money, that can be drawn on when needed.
The ability to deal with a difficult or troublesome situation effectively; resourcefulness: a person of resource.
A means that can be used to cope with a difficult situation; an expedient: needed all my intellectual resources for the exam.

a. resources The total means available for economic and political development, such as mineral wealth, labor force, and armaments.

b. resources The total means available to a company for increasing production or profit, including plant, labor, and raw material; assets.

c. Such means considered individually.
Origin of resource
Obsolete French
from
Old French
from feminine past participle of
resourdre
to rise again
from
Latin
resurgere
re-
re-
surgere
to rise
; see
surge
.
---
resource

Noun
(plural resources)
A person's capacity to deal with difficulty.

a man/woman of resource
Verb
(third-person singular simple present resources, present participle resourcing, simple past and past participle resourced)
To supply with resources.
---
resource - Computer Definition
An element of hardware, software or data that is part of a larger system. For example, network resources are the available servers, disk arrays and printers in the network. Software resources can be programs, utilities or even smaller elements within a program. Data resources are the files and databases that can be accessed.
---