noun
The definition of imagination is the ability to come up with mental images of something that is not real or to come up with new and creative ideas.

When a child is playing house and creates a pretend story, this is an example of a child using his imagination.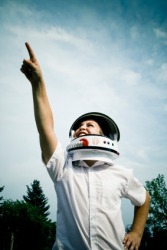 A child uses his imagination.
---
imagination definition by Webster's New World
noun
the act or power of forming mental images of what is not actually present
the act or power of creating mental images of what has never been actually experienced, or of creating new images or ideas by combining previous experiences; creative power

anything imagined; mental image; creation of the mind; fancy
a foolish notion; empty fancy
the ability to understand and appreciate imaginative creations of others, esp. works of art and literature
resourcefulness in dealing with new or unusual experiences

Obsolete

an evil plan or scheme
Origin: Middle English ymaginacioun ; from Old French imagination ; from Classical Latin imaginatio ; from past participle of imaginari: see imagine
Webster's New World College Dictionary Copyright © 2010 by Wiley Publishing, Inc., Cleveland, Ohio. Used by arrangement with John Wiley & Sons, Inc.
---
imagination definition by American Heritage Dictionary
noun
a. The formation of a mental image of something that is neither perceived as real nor present to the senses.

b. The mental image so formed.

c. The ability or tendency to form such images.

The ability to confront and deal with reality by using the creative power of the mind; resourcefulness: handled the problems with great imagination.
A traditional or widely held belief or opinion.
Archaic

a. An unrealistic idea or notion; a fancy.

b. A plan or scheme.
Related Forms:
i·magˌi·naˈtion·al

adjective
The American Heritage® Dictionary of the English Language, 4th edition Copyright © 2010 by Houghton Mifflin Harcourt Publishing Company. Published by Houghton Mifflin Harcourt Publishing Company. All rights reserved.
---
imagination - Phrases/Idioms