imagination

i·mag·i·na·tion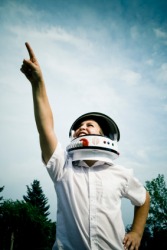 A child uses his imagination.
noun
The definition of imagination is the ability to come up with mental images of something that is not real or to come up with new and creative ideas.

When a child is playing house and creates a pretend story, this is an example of a child using his imagination.
---
imagination
the act or power of forming mental images of what is not actually present
the act or power of creating mental images of what has never been actually experienced, or of creating new images or ideas by combining previous experiences; creative power

anything imagined; mental image; creation of the mind; fancy
a foolish notion; empty fancy
the ability to understand and appreciate imaginative creations of others, esp. works of art and literature
resourcefulness in dealing with new or unusual experiences

Obs.

an evil plan or scheme
Origin of imagination
Middle English
ymaginacioun
from Old French
imagination
from Classical Latin
imaginatio
from past participle of
imaginari
: see imagine
---
imagination
noun
a. The ability to form mental images of things that are not present to the senses or not considered to be real: The author uses her imagination to create a universe parallel to our own.

b. The formation of such images: a child's imagination of monsters.

c. One of these mental images: "some secret sense … which … took to itself and treasured up … her thoughts, her imaginations, her desires" ( Virginia Woolf )

d. The mind viewed as the locus or repository of this ability or these images: "This story had been rattling around in my imagination for years" ( Orson Scott Card )

The ability to confront and deal with reality by using the creative power of the mind; resourcefulness: handled the problems with great imagination.
Attention, interest, or enthusiasm: an explorer's ordeal that caught the imagination of the public.
Related Forms:
i·mag′i·na′tion·al

adjective
---
imagination

Noun
(plural imaginations)
The image-making power of the mind; the act of creating or reproducing ideally an object not previously perceived; the ability to create such images.

Imagination is one of the most advanced human faculties.

Particularly, construction of false images; fantasizing.

You think someone's been following you? That's just your imagination.

Creativity; resourcefulness.

His imagination makes him a valuable team member.

A mental image formed by the action of the imagination as a faculty; a conception; a notion; an imagining; something imagined.
---