adjective
The definition of imaginative is having or showing creativeness or resourcefulness.

When you are able to make up an entire fantasy dreamworld to entertain yourself and you can get lost in your own creative ideas, this is an example of being an imaginative person.
A piece of computer software that does something that no one has ever dreamed of before and that is considered very creative, this is an example of imaginative software.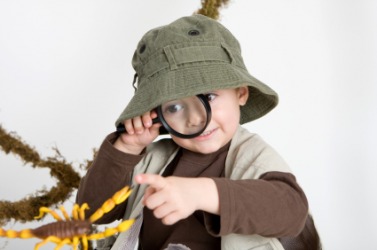 An imaginative child.
---
imaginative definition by Webster's New World
adjective
having, using, or showing imagination; having great creative powers
given to imagining
of or resulting from imagination: imaginative literature
Origin: Middle English imaginatif ; from Old French ; from Midieval Latin imaginativus
Webster's New World College Dictionary Copyright © 2010 by Wiley Publishing, Inc., Cleveland, Ohio. Used by arrangement with John Wiley & Sons, Inc.
---
imaginative definition by American Heritage Dictionary
adjective
Having a lively imagination, especially a creative imagination.
Created by, indicative of, or characterized by imagination or creativity.
Tending to indulge in the fanciful or in make-believe.
Having no truth; false.
Related Forms:
i·magˈi·na·tive·ly

adverb
i·magˈi·na·tive·ness

noun