harbor

har·bor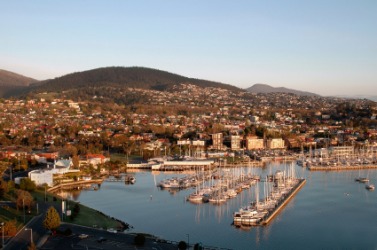 A harbor in Australia.
noun
The definition of a harbor is a place providing shelter or safety or a protected area in the water where boats anchor.

An example of harbor is a home for abused women.
An example of harbor is a port where someone can tie up their boat.
verb
Harbor is defined as to hide, protect or cling to.

An example of harbor is hiding a person wanted by the police.
An example of harbor is to hold onto the causes of an old family feud.
---
harbor
a place of refuge, safety, etc.; retreat; shelter
a protected inlet, or branch of a sea, lake, etc., where ships can anchor, esp. one with port facilities
Origin of harbor
Middle English
herberwe
from Old English
herebeorg
(& Old Norse
herbergi
), literally , army shelter ( from
here
, army +
beorg
, a shelter), akin to Old High German
heriberga
: see harbinger
to serve as, or provide, a place of protection to; shelter or house; conceal or hide
to be the dwelling place or habitat of
to hold in the mind; cling to: to harbor a grudge
to take shelter, as in a harbor
to live or exist
---
harbor
noun
A sheltered part of a body of water deep enough to provide anchorage for ships.
A place of shelter; a refuge.
transitive verb
har·bored, har·bor·ing, har·bors
To give shelter to: harbor refugees; harbor a fugitive.
To provide a place, home, or habitat for: a basement that harbors a maze of pipes; streams that harbor trout and bass.
To entertain or nourish (a specified thought or feeling): harbor a grudge.
Origin of harbor
Middle English
herberwe
probably from
Old English
herebeorg
lodging
; see
koro-
in Indo-European roots.
Related Forms:
harbor
harbor at Avalon on
Santa Catalina Island,
California
---
harbor

Noun
(plural harbors)
A sheltered expanse of water, adjacent to land, in which ships may dock or anchor, especially for loading and unloading.

A harbor, even if it is a little harbor, is a good thing, since adventurers come into it as well as go out, and the life in it grows strong, because it takes something from the world, and has something to give in return - Sarah Orne Jewett

Any place of shelter.

The neighborhood is a well-known harbor for petty thieves.
Verb
(third-person singular simple present harbors, present participle harboring, simple past and past participle harbored)
To provide a harbor or safe place for.

The docks, which once harbored tall ships, now harbor only petty thieves.

(intransitive) To take refuge or shelter in a protected expanse of water.

The fleet harbored in the south.

To hold or persistently entertain in one's thoughts or mind.

She harbors a conviction that her husband has a secret, criminal past.
Origin
Middle English herberwe, herberge, from Old English herebeorg 'military quarters, hostelry', from Proto-Germanic *harjabergō (compare West Frisian herberch 'inn', Dutch herberg 'id.', German Herberge 'id.'), compound of *harjaz 'army' and *bergō 'refuge, shelter', deverbative of *ƀerʒanan 'to protect, shelter' (compare Old English beorgan). More at harry and bury.
---