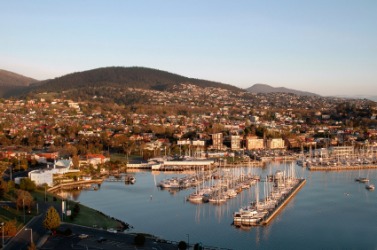 A harbor in Australia.
noun
The definition of a harbour is a place providing safety or shelter, or a protected area in the water for anchoring boats.

An example of a home for abused women.
An example of a harbour is a marina.
verb
Harbour, a British spelling for harbor, is defined as to hide, protect or hold on to.

An example of harbour is to let neighbors stay in an underground shelter during a storm.
---
harbour
---
harbour
noun
verb
Chiefly British
---
harbour

Noun
(plural harbours) (UK, Canada)
A place of shelter or refuge.

The neighbourhood is a well-known harbour for petty thieves.

A sheltered area for ships; a piece of water adjacent to land in which ships may stop to load and unload.

The city has an excellent natural harbour.

(astrology) The mansion of a heavenly body.
A mixing box for materials in glass-working.
Verb
(third-person singular simple present harbours, present participle harbouring, simple past and past participle harboured)
To provide shelter or refuge for.

The docks, which once harboured tall ships, now harbour only petty thieves.

To accept, as with a belief.

That scientist harbours the belief that God created humans.
Origin
From Middle English herber, herberge, from Old English herebeorg ("shelter, lodgings, quarters"), from Proto-Germanic *harjaz ("army") + *bergô ("protection"), equivalent to Old English here ("army, host") + ġebeorg ("defense, protection, refuge"). Cognate with Old Norse herbergi ("a harbour; a room") (whence the Icelandic herbergi), Dutch herberg, German Herberge 'hospice', Swedish härbärge. Compare also French auberge ("hostel"). More at here, borrow.
---