mole

mo·le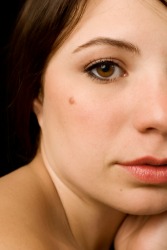 This woman has a mole on her cheek.
noun
Mole is defined as a small, dark and raised spot on the skin.

Facts About Moles

A mole or freckle is a section of skin that has a large number of melanocytes, cells that give the skin its characteristic color.
Some moles form in the womb or within the first month of life and are small defects in the skin of a newborn.
Genetics does seem to play a role in the occurrence of moles.
Most people have between five and twenty moles on their body.
Most moles development before the age of twenty. Some people may still develop them into their 30's and 40's.
Some moles that appear after the age of twenty could be a sign of skin cancer.
Mole growth may be caused by overexposure to UV radiation or sun exposure.
Moles will begin to fade as you grow older.

An example of a mole is the beauty mark on the face of model, Cindy Crawford.

The definition of a mole is someone who is spying on a business or organization.

An example of a mole is a spy who has been secretly working for the CIA.

Mole means a small animal that lives and burrows underground.

An example of a mole is a gray animal with small eyes.
---
mole
a small, pigmented spot on the human skin, often slightly raised
Origin of mole
Middle English from Old English
mal,
akin to Gothic
mail
from Indo-European base an unverified form
mai-,
to spot from source Classical Greek
miainein,
to sully
any of various small, burrowing insectivores (esp. family Talpidae) with small eyes and ears, shovel-like forefeet, and soft fur: moles live mainly underground
a spy who infiltrates and is assimilated into the ranks of an enemy intelligence agency, government staff, etc., usually long before engaging in any spying activities
Origin of mole
Middle English
molle,
akin to or from Middle Dutch
mol,
from Germanic an unverified form
mug-
from source mow, Old High German
mol
: origin, originally sense, "mound maker"
a barrier of stone, etc. built in the water as a protection from the force of the waves, as a breakwater
a harbor or anchorage so formed or protected
Origin of mole
French
môle
from Late Greek
m?los
from Classical Latin
moles,
a mass, dam, mole from Indo-European an unverified form
mo-lo-
from base an unverified form
mo-,
to strive from source Classical Greek
m?los,
effort, German
müde,
tired
the quantity of a chemical substance having a weight in grams numerically equal to its molecular weight: one mole of a substance contains 6.022137 × 10 molecules
the amount of a substance containing the same number of units, including molecules, atoms, or ions, as there are atoms in 12 grams of pure carbon-12: a basic unit in the SI system: abbrev. mol
Origin of mole
German
mol,
short for
molekulargewicht,
molecular weight
a marked growth of grapelike masses of fetal placental tissue
any of various fleshy or bloody masses in the uterus
Origin of mole
French
môle
from Classical Latin
mola,
false conception, millstone: for Indo-European base see mill
any of various spicy Mexican sauces for meat or poultry, typically made with chilies, tomatoes, spices, and ground nuts, esp., such a sauce containing bitter chocolate
Origin of mole
Mexican Spanish from Nahuatl
molli
, sauce
---
mole
noun
A skin lesion, commonly a nevus, that is typically raised and discolored.
Origin of mole
Middle English
mol
from
Old English
māl
noun
Any of various small insectivorous mammals of the family Talpidae of North America and Eurasia, usually living underground and having a thickset body with light brown to dark gray silky fur, strong forefeet for burrowing, and often rudimentary eyes.
A machine that bores through hard surfaces, used especially for tunneling through rock.
A spy who operates from within an organization, especially a double agent operating against his or her own government from within its intelligence establishment.
Origin of mole
Middle English
molle
possibly akin to
mold
3
noun
A massive, usually stone wall constructed in the sea, used as a breakwater and built to enclose or protect an anchorage or a harbor.
The anchorage or harbor enclosed by a mole.
Origin of mole
French
môle
from
Italian
molo
from
Late Greek
mōlos
from
Latin
mōlēs
mass, mole
noun
A fleshy abnormal mass formed in the uterus by the degeneration or abortive development of an ovum.
Origin of mole
French
môle
from
Latin
mola
millstone, mole
; see
melə-
in Indo-European roots.
noun
Abbr.
mol
Chemistry
In the International System, the base unit used in representing an amount of a substance, equal to the amount of that substance that contains as many atoms, molecules, ions, or other elementary units as the number of atoms in 0.012 kilogram of carbon-12. The number is 6.0221 × 10
23
, or Avogadro's number.
measurement
Origin of mole
German
Mol
short for
Molekulargewicht
molecular weight
from
molekular
molecular
from
French
moléculaire
from
molécule
molecule
; see
molecule
.
noun
Any of various spicy sauces of Mexican origin, usually having a base of onion, chilies, nuts or seeds, and unsweetened chocolate and served with meat or poultry.
Origin of mole
American Spanish
from
Nahuatl
mōlli
---
mole

---
mole - Computer Definition
A unit of measurement of molecular weight. Part of the SI system of measurement, one mole (mol) is equal to 6.02257 X 10 to the 23rd molecules. See SI units.
---