fault

fault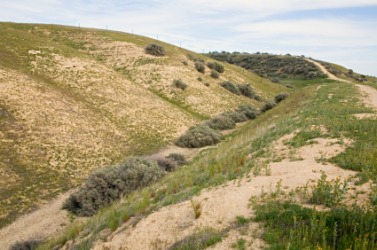 Part of the San Andreas fault.
noun
The definition of a fault is a weakness in the rock strata that can shift and create an earthquake.

An example of fault is the San Andreas fault line in California.

Fault means a mistake or a weakness.

An example of fault is having a problem telling the truth.
verb
Fault is defined as to blame or to commit a mistake.

An example of fault is for a child to blame a broken vase on his brother.
An example of fault is to tell a lie.
---
fault
Obs.

failure to have or do what is required; lack
something that mars the appearance, character, structure, etc.; defect or failing
something done wrongly; specif.,

a misdeed; offense
an error; mistake

responsibility for something wrong; blame: it's her fault that they are late

Elec.

a defect or point of defect in the wiring or connections of a circuit, which prevents the current from following the intended path

Geol.

a fracture or zone of fractures in rock strata, characterized by tectonic movement that displaces the sides relative to one another

Hunting

a break in the line of the scent
an improper serve; specif., a serve that hits the net or lands outside the court
Origin of fault
Middle English
faute
from Old French
faulte
, a lack from Vulgar Latin an unverified form
fallita
from an unverified form
fallitus
, for Classical Latin
falsus
: see false
to find fault with; blame or criticize

Geol.

to cause a fault in
to commit a fault: archaic except in racket sports

Geol.

to develop a fault
at fault
unable to find the scent: said of hunting dogs

Archaic

not knowing what to do; perplexed
guilty of error; deserving blame
find fault (with)
to seek and point out faults (of); complain (about); criticize

---
fault
noun
a. A character weakness, especially a minor one.

b.

Something that impairs or detracts from physical perfection; a defect. See Synonyms at

blemish

.

c. A mistake; an error: a grammatical fault; a fault in his reasoning.

d. A minor offense or misdeed: committed her share of youthful faults.

Responsibility for a mistake or an offense; culpability. See Synonyms at blame.
Geology A fracture in the continuity of a rock formation caused by a shifting or dislodging of the earth's crust, in which adjacent surfaces are displaced relative to one another and parallel to the plane of fracture. Also called shift .
Electronics A defect in a circuit or wiring caused by imperfect connections, poor insulation, grounding, or shorting.
Sports A service of the ball that violates the rules in tennis and similar games.
Archaic A lack or deficiency.
verb
fault·ed, fault·ing, faults
verb
transitive
To find error or defect in; criticize or blame: faulted the author for poor research; faulted the book for inaccuracies.
Geology To produce a fault in; fracture.
verb
intransitive
To commit a mistake or an error.
Geology To shift so as to produce a fault.
Sports To commit a fault, as in tennis.
Origin of fault
Middle English
faulte
from
Old French
from
Vulgar Latin
fallita
from variant of
Latin
falsa
feminine past participle of
fallere
to deceive, fail
fault
top: normal fault
center: reverse fault
bottom: strike-slip fault
---
fault

Verb
(third-person singular simple present faults, present participle faulting, simple past and past participle faulted)
(intransitive, geology) To fracture.
(intransitive) To commit a mistake or error.
(intransitive, computing) To undergo a page fault.
Origin
From Middle English faute, faulte, from Anglo-Norman and Old French faute, from Vulgar Latin *fallita ("shortcoming"), from Latin falsus, perfect passive participle of fallō ("deceive"). Displaced native Middle English schuld, schuild ("fault") (from Old English scyld ("fault")), Middle English lac ("fault, lack") (from Middle Dutch lak ("lack, fault")), Middle English last ("fault, vice") (from Old Norse lǫstr, löstr ("fault, vice, crime")).
---
fault - Computer Definition
An error or failure. A software fault, also known as a "crash" or "abend," is when the program directs the computer to go outside of its restricted memory boundary. A hardware fault is a failure in one of the circuits. See fault detection, fault isolation and fault management. See also page fault.
---
fault - Legal Definition
n
A negligent or intentional failure to act reasonably or according to law or duty; an act or omission giving rise to a criminal indictment or a civil tort lawsuit.
---