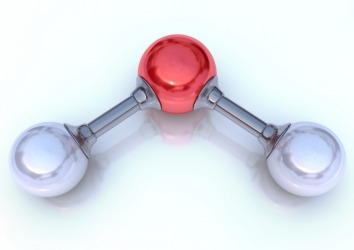 A model of a water molecule.
noun
The definition of a molecule is the smallest amount of something, particularly of a chemical substance, that can exist on its own.

An example of a molecule are two atoms of hydrogen.
---
molecule
the smallest particle of an element or compound that can exist in the free state and still retain the characteristics of the element or compound: the molecules of elements consist of one atom or two or more similar atoms; those of compounds consist of two or more different atoms
a small particle
Origin of molecule
French
molécule
from Modern Latin
molecula,
diminutive of Classical Latin
moles,
a mass: see mole
---
molecule
noun
The smallest particle of a substance that retains the chemical and physical properties of the substance and is composed of two or more atoms; a group of like or different atoms held together by chemical forces.
A small particle; a tiny bit.
Origin of molecule
French
molécule
from
New Latin
mōlēcula
diminutive of
Latin
mōlēs
mass
---
molecule

Origin
Summary: from French molécule, from New Latin molecula ("a molecule"), diminutive of Latin moles ("a mass"); see mole.
French molécule (1674, Pierre Le Gallois, Conversations tirées de l'Académie de M. l'abbé Bourdelot, contenant diverses recherches et observations physiques) cited in Quemada, Bernard (1965), Datations et documents lexicographiques (tome 3).
Medieval Latin molecula (early XVII cent., Pierre Gassendi), cited in Le Grand Robert de la Langue Française (2e édn) tome 6. ISBN 2-85036-094-5. pp. 522-23. Diminutive of moles
---