atom

at·om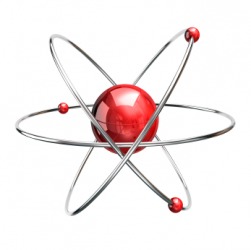 A model of an atom.
noun
The definition of an atom is the smallest component of an element, characterized by a sharing of the chemical properties of the element and a nucleus with neutrons, protons and electrons.

Structure of an Atom

An atom includes a nucleus, and then a series of orbital circles that surround this nucleus similar to the solar system structure.

The protons and the neutrons reside in the nucleus.
The electrons are in the orbitals.
The amount of protons in the nucleus of an atom determines its atomic number.

Hydrogen and helium are examples of elements that have an atom.
---
atom
Obs.

any of the indivisible particles postulated by philosophers as the basic component of all matter
a tiny particle of anything; jot
any of the smallest particles of an element that combine with similar particles of other elements to produce compounds: atoms combine to form molecules, and consist of a complex arrangement of electrons revolving about a positively charged nucleus containing (except for hydrogen) protons and neutrons and other particles
Origin of atom
Middle English
attome
from Old French
atome
from Classical Latin
atomus
from Classical Greek
atomos
, uncut, indivisible, atom from
a-
, not +
tomos
from
temnein
, to cut: see -tomy
---
atom
noun
a. A part or particle considered to be an irreducible constituent of a specified system.

b. The irreducible, indestructible material unit postulated by ancient atomism.

An extremely small part, quantity, or amount.
Physics & Chemistry

a. The smallest unit of an element, having all the characteristics of that element and consisting of a very small and dense central nucleus containing protons and neutrons, surrounded by one or more shells of orbiting electrons. Atoms remain undivided in chemical reactions except for the donation, acceptance, or exchange of valence electrons.

b. This unit regarded as a source of nuclear energy.
Origin of atom
Middle English
attome
from
Latin
atomus
from
Greek
atomos
indivisible, atom
a-
not
; see
a-
1
.
tomos
cutting
(
from
temnein
to cut
; see
tem-
in Indo-European roots.)
---
atom

---
atom - Computer Definition
(1) (Atom) Intel x86 chips. See Intel Atom.
(2) (Atom) A Web feed. See Atom syndication format.
(3) A single element. See atomic.
(4) A fundamental building block of matter. Atoms are microscopic solar systems that are made up of particles and mostly space. Within that space, electrons create an outer shell by circling a nucleus containing protons and neutrons of similar mass. Neutrons have no electrical charge, but protons have a positive charge. Since there are the same number of electrons as there are protons, and since electrons have a negative charge, the atom has a net charge of zero. See electron. Since the days of ancient Greece, the atom was considered "the" smallest element of matter and indivisible, which is what "atomic" means. However, in the 1960s, we discovered that the nucleus was made up of more particles, which were named quarks and leptons. Perhaps some day, we will find those particles made up of even more particles in our never ending quest to discover what we are really made of.
Does It Really Matter?
World-renowned scientist and Nobel Prize winner Max Planck once made a remarkable comment about the structure of matter that has been widely quoted ever since... "As a man who has devoted his whole life to the most clear-headed science, to the study of matter, I can tell you as the result of my research about atoms this much: THERE IS NO MATTER AS SUCH! All matter originates and exists only by virtue of a force which brings the particles of an atom to vibration and holds this most minute solar system of the atom together. We must assume behind this force the existence of a conscious and intelligent mind. This mind is the matrix of all matter."
---