atoll

a·toll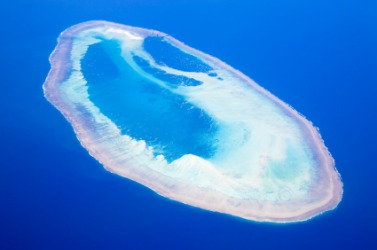 A coral atoll.
noun
The definition of an atoll is a ring shaped coral reef, or close coral islands that enclose or almost enclose a lagoon.

The Bikini in the Pacific Ocean is an example of an atoll.
---
atoll
a ring-shaped coral island nearly or completely surrounding a lagoon
Origin of atoll
from
atolu
, in Maldive Islands dialect, dialectal of Malayalam

---
atoll
noun
An island or chain of islets connected by a coral reef that nearly or entirely encloses a lagoon.
Origin of atoll
Dhivehi
atholhu
probably akin to
Sinhalese
ätul
interior (from the interior lagoon)
probably from
Sanskrit
antala-
interior
variant of
antara-
; see
en
in Indo-European roots.
atoll
An atoll is created as a coral reef builds up around an eroding volcanic island.
---
atoll

---