noun
An island is defined as a body of land surrounded by water.

An example of an island is Ellis Island in New York City.

The definition of an island is an area that is isolated or stands alone.

An example of an island is a central counter in a kitchen.
An example of an island is a raised area in the center of a road.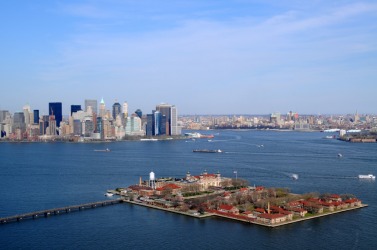 Ellis Island, New York.
---
island
noun
a land mass not as large as a continent, surrounded by water
anything like an island in position or isolation; specif.,

a structure above the flight deck of an aircraft carrier containing the bridge, radar, etc.
a counter which stands alone as in the central area of a kitchen
any of the elevated areas of a service station, having a bank of gasoline pumps: a self-service island

traffic island
safety island

Anat.

a tissue or cluster of cells differing from surrounding tissue in formation, etc.
Origin of island
; from Middle English
iland
(respelled by associated, association with unrelated isle) ; from Old English
igland, iegland
, literally , island land and amp;
ealand
, literally , water land ; from
ig, ieg
, isle (akin to German
aue
, Old Norse
ey
; from Proto-Germanic an unverified form
aujo
, akin to an unverified form
ahwo
) and amp;
ea
, water ; from Proto-Germanic an unverified form
ahwo
, water ; from Indo-European an unverified form
akwa
from source Classical Latin
aqua
: see land
transitive verb
to make into or like an island; isolate
to intersperse with or as with islands: a prairie islanded with wooded tracts
---
island
noun
Abbr. Isl. or Is. or I. A landmass, especially one smaller than a continent, entirely surrounded by water.
Something resembling an island, especially in being isolated or surrounded, as:

a. An unattached kitchen counter providing easy access from all sides.

b. A raised curbed area, often used to delineate rows of parking spaces or lanes of traffic.

c. The superstructure of a ship, especially an aircraft carrier.

Anatomy A cluster of cells differing in structure or function from the cells constituting the surrounding tissue.
transitive verb
is·land·ed
,
is·land·ing
,
is·lands
To make into or as if into an island; insulate: a secluded mansion, islanded by shrubbery and fences.
Origin of island
Alteration (influenced by
isle
) of Middle English
ilond
, from Old English
īegland
:
īg, īeg
; see
akw-ā-
in Indo-European roots +
land
,
land
; see
lendh-
in Indo-European roots.
Word History:
It may seem hard to believe, but Latin
aqua,
"water," is related to
island,
which originally meant "watery land."
Aqua
comes almost unchanged from Indo-European
*akwā-,
"water."
*Akwā-
became
*ahwō-
in Germanic by Grimm's Law and other sound changes. To this was built the adjective
*ahwjō–,
"watery." This then became
*awwjō–
or
*auwi–,
which in pre-English became
*ēaj–,
and finally
ēg
or
īeg
in Old English.
Island,
spelled
iland,
first appears in Old English in King Alfred's translation of Boethius about AD 888; the spellings
igland
and
ealond
appear in contemporary documents. The
s
in
island
is due to a mistaken etymology, confusing the etymologically correct English
iland
with French
isle. Isle
comes ultimately from Latin
īnsula
"island," a component of
paenīnsula,
"almost-island," whence our
peninsula.
---
island
---