particle

par·ti·cle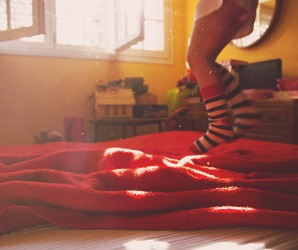 Particles of dusk flew into the air when Gracie jumped up and down on the blanket
noun
The definition of a particle is a very small amount of something.

An example of a particle is a speck of dust.
---
particle
an extremely small piece; tiny fragment: a dust particle
the slightest trace; speck: not a particle of truth

Archaic

a clause or article in a document

Gram.

a short, usually uninflected and invariable part of speech used to express a syntactic or semantic relationship, as an article or any of certain prepositions, conjunctions, or interjections
a prefix or derivational suffix

Physics

elementary particle

R.C.Ch.

a small piece of the consecrated Host or any of the small Hosts given to lay communicants
Origin of particle
Middle English
partycle
from Middle French
particule
from Classical Latin
particula,
diminutive of
pars,
part
---
particle
noun
A very small piece or part; a tiny portion or speck.
A very small or the smallest possible amount, trace, or degree: not a particle of doubt.
Physics

a. A body whose spatial extent and internal motion and structure, if any, are irrelevant in a specific problem.

b. An elementary particle.

c. A subatomic particle.

Linguistics

a. An uninflected item that has grammatical function but does not clearly belong to one of the major parts of speech, such as up in He looked up the word or to in English infinitives.

b. In some systems of grammatical analysis, any of various short function words, including articles, prepositions, and conjunctions.

Ecclesiastical A portion or fragment of the Eucharistic host.
Archaic A small part of something written, such as a clause of a document.
Origin of particle
Middle English
from
Latin
particula
diminutive of
pars
part-
part
; see
part
.
---
particle

Noun
(plural particles)
A very small piece of matter, a fragment; especially, the smallest possible part of something. [from 14th c.]
(linguistics) A word that has a particular grammatical function but does not obviously belong to any particular part of speech, such as the word to in English infinitives or O as the vocative particle. [from 16th c.]
(physics) Any of various physical objects making up the constituent parts of an atom; an elementary particle or subatomic particle. [from 19th c.]
---