variegated

var·i·e·gat·ed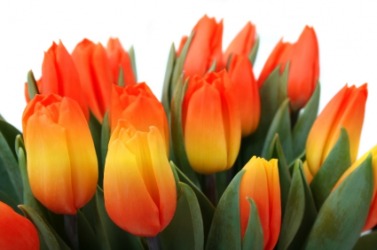 Beautiful variegated tulips.
adjective
The definition of variegated is marked with different colors, or varying in form.

A tulip with a red base and yellow streaks of color is an example of something variegated.
A set of plants that are available in purple or red are an example of something variegated.
---
variegated
marked with different colors in spots, streaks, etc.; parti-colored
having variety in character, form, etc.; varied; diversified
---
variegated
adjective
Having streaks, marks, or patches of a different color or colors; varicolored: a plant with variegated leaves.
Distinguished or characterized by variety; diversified: her variegated experience.
---
variegated

Adjective
(comparative more variegated, superlative most variegated)
Verb
Simple past tense and past participle of variegate.
---