adjective
The definition of variegated is marked with different colors, or varying in form.

A tulip with a red base and yellow streaks of color is an example of something variegated.
A set of plants that are available in purple or red are an example of something variegated.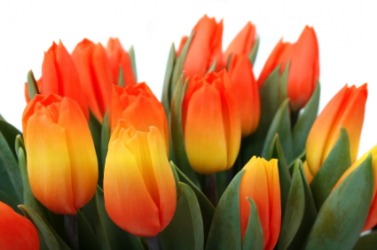 Beautiful variegated tulips.
---
variegated definition by Webster's New World
adjective
marked with different colors in spots, streaks, etc.; parti-colored
having variety in character, form, etc.; varied; diversified
Webster's New World College Dictionary Copyright © 2010 by Wiley Publishing, Inc., Cleveland, Ohio. Used by arrangement with John Wiley & Sons, Inc.
---
variegated definition by American Heritage Dictionary
adjective
Having streaks, marks, or patches of a different color or colors; varicolored: "If they recall the Colosseum . . . it is only as a showcase for cats more variegated than any fevered artist's mind could imagine" (Michael Mewshaw).
Distinguished or characterized by variety; diversified.
variegated
Variant of variegate
transitive verb
variegated, variegating
to make varied in appearance by differences, as in colors
to give variety to; diversify
Origin: ; from Classical Latin variegatus, past participle of variegare ; from varius: see vary