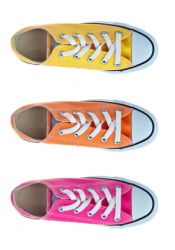 Varied tennis shoes.
adjective
The definition of varied is changed, or of different types, kinds and colors.

An example of something varied is a shoe available in white, black, gray, tan and brown; varied color choices.
---
varied
of different kinds; various
showing different colors; variegated
changed; altered
---
varied
adjective
Having or consisting of various kinds or forms; diverse: a person with varied talents. See Synonyms at miscellaneous.
Characterized by variety or variation: sailed at a varied pace; a varied landscape.
Varicolored or variegated.
Related Forms:
---
varied

Verb
Simple past tense and past participle of vary.
Adjective
(comparative more varied, superlative most varied)
---