adjective
The definition of varied is changed, or of different types, kinds and colors.

An example of something varied is a shoe available in white, black, gray, tan and brown; varied color choices.
YourDictionary definition and usage example. Copyright © 2013 by LoveToKnow Corp.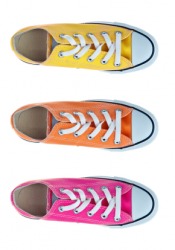 Varied tennis shoes.
Licensed from iStockPhoto
---
adjective
of different kinds; various
showing different colors; variegated
changed; altered
Webster's New World College Dictionary
Copyright © 2010 by Wiley Publishing, Inc., Cleveland, Ohio.
Used by arrangement with John Wiley & Sons, Inc.
---
adjective
Having or consisting of various kinds or forms; diverse. See Synonyms at miscellaneous.
Having been modified or altered.
Of several colors; varicolored or variegated.
Related Forms:
The American Heritage® Dictionary of the English Language
, 4th edition Copyright © 2010 by Houghton Mifflin Harcourt Publishing Company. Published by Houghton Mifflin Harcourt Publishing Company. All rights reserved.
varied
Variant of vary
transitive verb
varied, varying
to change in form, appearance, nature, substance, etc.; alter; modify
to make different from one another
to give variety to; diversify: to vary one's reading

Music

to repeat (a theme or idea) with changes in harmony, rhythm, key, etc.
Origin: Middle English varien from Old French varier from Classical Latin variare, to vary, change from varius, various, probably from Indo-European base an unverified form wa-, to bend, turn from source vacillate
intransitive verb
to undergo change in any way; become different
to be different or diverse; differ: varying opinions
to deviate, diverge, or depart (from)

Biol.

to show variation