varied
[ver′ēd, var′-]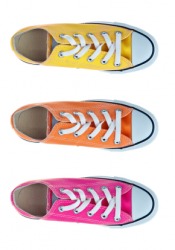 Varied tennis shoes.
adjective
The definition of varied is changed, or of different types, kinds and colors.

An example of something varied is a shoe available in white, black, gray, tan and brown; varied color choices.
---
varied
adjective
of different kinds; various
showing different colors; variegated
changed; altered
---
varied
adjective
Having or consisting of various kinds or forms; diverse: a person with varied talents. See Synonyms at miscellaneous.
Characterized by variety or variation: sailed at a varied pace; a varied landscape.
Varicolored or variegated.
Related Forms:
---
varied
Verb
Simple past tense and past participle of vary.
Adjective
(comparative more varied, superlative most varied)
---
varied
Variant of vary
transitive verb
varied, varying
to change in form, appearance, nature, substance, etc.; alter; modify
to make different from one another
to give variety to; diversify: to vary one's reading

Music

to repeat (a theme or idea) with changes in harmony, rhythm, key, etc.
Origin of vary
Middle English
varien
; from Old French
varier
; from Classical Latin
variare,
to vary, change ; from
varius,
various, probably ; from Indo-European base an unverified form
wa-,
to bend, turn from source vacillate
intransitive verb
to undergo change in any way; become different
to be different or diverse; differ: varying opinions
to deviate, diverge, or depart (from)

Biol.

to show variation