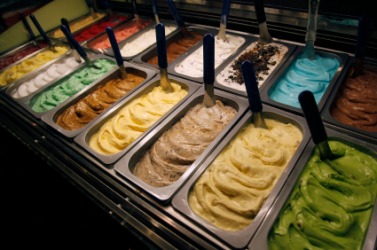 Multiple flavors of ice cream on display.
adjective
Multiple is defined as being or having more than one.

An example of multiple used as an adjective is the phrase "multiple flavors of ice cream" which means a number of different flavors.
noun
The definition of a multiple is a number that can be evenly divided by another number.

An example of a multiple is 24 to 12.
---
multiple
having or consisting of many parts, elements, etc.; more than one or once; manifold or complex
shared by or involving many
many or very many; numerous

Elec.

designating or of a circuit having two or more conductors connected in parallel
Origin of multiple
French from Classical Latin
multiplex
from
multi-
, multi- +
-plex,
-fold: see duplex
Elec.

a group of terminals so arranged that connection with the circuit can be made at any of a number of points

Finance

price-earnings ratio

Math.

a number which is a product of some specified number and another number: 10 is a multiple of 5
---
multiple
adjective
Having, relating to, or consisting of more than one individual, element, part, or other component; manifold.
noun
A number that may be divided by another number with no remainder: 4, 6, and 12 are multiples of 2.
Origin of multiple
French
from
Old French
from
Late Latin
multiplum
a multiple
Latin
multi-
multi-
Latin
-plus
-fold
; see
pel-
2
in Indo-European roots.
---
multiple

---