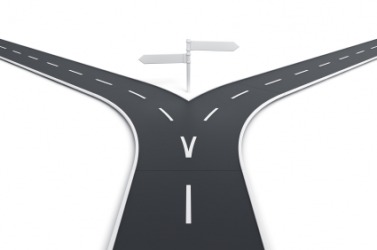 A divided road.
---
divided
adjective
separated into parts; parted
having a center strip, as of turf, separating traffic moving in opposite directions: a divided highway
having distinct indentations or notches reaching to the base or midrib, as in certain compound leaves

disagreeing or differing in opinion
---
divided
adjective
Separated into parts or pieces.
Being in a state of disagreement or disunity: a divided nation.
Moved by conflicting interests, emotions, or activities: divided loyalties.
Separated by distance: a child divided from her familiar surroundings.
Having the lanes for opposing traffic separated: divided highways.
Botany Having indentations extending to the midrib or base and forming distinct lobes: divided leaves.
Related Forms:
---
divided
Verb
simple past tense and past participle of divide
---
divided
Variant of divide
transitive verb
divided, dividing
to separate into parts; split up; sever
to separate into groups; classify
to make or keep separate by or as by a boundary or partition
to give out in shares; apportion; distribute
to cause disagreement between or among; alienate
to separate (a parliamentary body) into groups in voting on a question

Math.

to separate into equal parts by a divisor
to function as a divisor of

Mech.

to mark off the divisions of; graduate; gradate
Origin of divide
Middle English
dividen
; from Classical Latin
dividere
, to separate, divide, distribute ; from
di-
(; from
dis-
, apart) + base seen in
vidua
, widow ; from Indo-European base an unverified form
weidh-
, to separate (prob. ; from
wi-
, apart +
dhē
, set,
do
)
intransitive verb
to be or become separate; part
to differ in opinion; disagree
to separate into groups in voting on a question: said of a parliament, esp. that of the United Kingdom
to share

Math.

to do division
to undergo division; be divisible (by)
noun
the act of dividing
☆ a ridge that divides two drainage areas; watershed
a division; boundary