broken
[brō′kən]
adjective
The definition of broken is split, out of order, or not continuous.

An example of broken used as an adjective is the phrase "a broken home," which means a home where the father and mother are not living together.
An example of broken used as an adjective is the phrase "broken watch," which means a watch that is not keeping accurate time.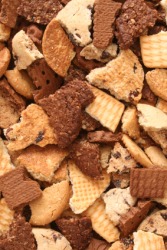 A pile of broken cookies.
---
broken
transitive verb
,
intransitive verb
break
Origin of broken
Middle English ; from Old English
brocen,
past participle of
brecan,
break
adjective
split or cracked into pieces; splintered, fractured, burst, etc.
not in working condition; out of order: a broken watch
not kept or observed; violated: a broken promise
disrupted, as by divorce: a broken home
sick, weakened, or beaten: broken health, a broken spirit
bankrupt
not even or continuous; interrupted: broken terrain, broken tones
not complete: a broken set of Shakespeare's works
imperfectly spoken, esp. with reference to grammar and syntax: broken English
subdued and trained; tamed

Informal

demoted in rank
---
broken
verb
Past participle of
break
.
adjective
Forcibly separated into two or more pieces; fractured: a broken arm; broken glass.
Sundered by divorce, separation, or desertion of a parent or parents: children from broken homes; a broken marriage.
Having been violated: a broken promise.

a. Incomplete: a broken set of books.

b. Being in a state of disarray; disordered: troops fleeing in broken ranks.

a. Intermittently stopping and starting; discontinuous: a broken cable transmission.

b. Varying abruptly, as in pitch: broken sobs.

c. Spoken with gaps and errors: broken English.

Topographically rough; uneven: broken terrain.

a. Subdued totally; humbled: a broken spirit.

b. Weakened and infirm: broken health.

Crushed by grief: died of a broken heart.
Financially ruined; bankrupt.
Not functioning; out of order: a broken washing machine.
Related Forms:
---
broken
Verb
past participle of break
Adjective
(comparative more broken, superlative most broken)
Usage notes
Nouns to which "broken" is often applied: glass, vase, cup, mirror, window, bone, wing, leg, arm, hand, foot, heart, egg, tool, sword, column, road, bridge, stick, device, machine, camera, TV, car, computer, promise, vow, law, trust, dream, relationship, friendship, love, family, marriage, bond, tie, silence, ground, land, circle, image, language, spirit, soul.
Proper noun
(pejorative, politically incorrect) Torres Strait Creole.
Origin
Back-formation from broken English.
---
broken - Computer Definition
Not working properly. The term applies to software as well as hardware. If software is "broken," it means there is a bug in it. It may mean that people are having difficulty using it, because of poor design or cryptic error messages, in which case some parts of all software are "broken." See bug.
---
broken
Variant of break
transitive verb
broke, broken, breaking
to cause to come apart by force; split or crack sharply into pieces; smash; burst

to cut open the surface of (soil, the skin, etc.)
to fracture a bone of

to cause the failure of by force or extralegal measures: to break a strike
to make unusable or inoperative by cracking, disrupting, etc.
to tame or make obedient with or as with force

to cause to get rid (of a habit)
to get rid of (a habit)

to lower in rank or grade; demote

to reduce to poverty or bankruptcy
to ruin the chance for success of
to wreck the health, spirit, etc. of

to surpass (a record)
to fail to follow the terms of (a law, promise, agreement, etc.); violate

to open or enter by force: now chiefly in
to escape from by force: to break prison

to disrupt the order or completeness of; make irregular: the troops broke formation and ran
to interrupt (a journey, electric circuit, etc.)
to reduce the force of by interrupting (a fall, the wind, etc.)
to bring to a sudden end: to break a tie

to make or create (a path, way, etc.) as by removing obstructions
to cut through or penetrate (silence, darkness, etc.)

to make known; tell; disclose

to decipher: to break a code
to succeed in solving: to break a criminal case

to make (a will) invalid by legal process
to prove (an alibi) to be false
to begin; open; start
to exchange (a bill or coin) for smaller units
to open (a rifle or shotgun) at the breech

Tennis

to win a game from (an opponent who is serving)
Origin of break
Middle English
breken
; from Old English
brecan
; from Indo-European base an unverified form
bhreg-
from source breach, breech, German
brechen,
Classical Latin
frangere
intransitive verb
to split into pieces; come apart; burst
to scatter; disperse: to break and run
to force one's way (through obstacles or resistance)
to quarrel; stop associating (with)
to become unusable or inoperative; go out of order
to suffer a sudden fall in prices, financial condition, etc.
to change suddenly, as by a sharp rise, fall, turn, shift, etc.: his voice broke; the hot spell broke

to move away suddenly: the base runner broke for second
to move apart, or withdraw, from a clinch in boxing

☆ to move into a gait other than the trot or pace required: said of a horse in harness racing
to begin suddenly to utter, perform, etc.: with into, forth in, or out in: to break into song
to come suddenly into being, evidence, or general knowledge: day was breaking; the story broke
to appear suddenly above water, as a periscope, fish, etc.
☆ to stop activity temporarily: we broke for lunch

to fall apart slowly; disintegrate
to dash apart, as a wave on the shore

to suffer a collapse of health, vitality, spirit, etc.
to change into a diphthong: said of vowels
☆ to curve, dip, or rise near the plate: said of a pitched baseball
☆ to begin a game of pocket billiards with a break ()

Informal

to happen in a certain way: things were breaking badly
noun
a breaking open or apart; breach; fracture

a breaking in, out, or forth
☆ a sudden move away or toward; rush; dash

the result of a breaking; broken place; separation; crack
a beginning or appearance: the break of day
an interruption of a regular or continuous arrangement, action, etc.
the result of this; a gap, interval, pause, omission, rest, etc.
a breach in friendly relations
a sudden change, as in weather
☆ an escape, as from prison
☆ a sudden lowering or drop, as of prices
an imperfection; flaw
an unbroken series or sequence, as of points in billiards
☆ the opening shot in a game of pocket billiards, in which the cue ball must come into contact with at least one ball in the rack; often, a shot that scatters the racked balls
☆

Basketball

fast break
☆

a piece of luck, often specif. of good luck
an advantage or opportunity
exceptional or favorable treatment

Music

the point where one register changes to another
the abrupt change in quality of a voice or instrument at this point
in jazz, a brief, usually improvised passage by one band member who continues to play while the others stop

Printing

a space between paragraphs
the place at which a column or page of text stops, to be continued as on another column or page
a point at which a word is divided, as at the end of a line
break a leg!
☆
good luck!: said as to a performer, esp. in the theater
break away
to leave suddenly; get away; escape
break down
to go out of working order
to give way to tears or emotion
to have a physical or nervous collapse
to crush or overcome (opposition, etc.)
to separate into parts; analyze
break even
☆
Informal
to finish as neither a winner nor a loser
break in
to enter forcibly or unexpectedly
to interrupt
to train (a beginner)
☆ to prepare (something new) by use or wear
break off
to stop abruptly, as in talking
to stop being friendly or intimate
break out
to begin suddenly
to escape suddenly
to become covered with pimples or a rash

Naut.

to bring out of stowage for use: break out the foul weather gear

Informal

to bring out (anything) for use
break up
to separate; disperse
to take apart; dismantle and scrap
to put a stop to

Informal

to end a relationship
☆

Informal

to distress or upset greatly
☆

Informal

to laugh or make laugh uncontrollably
give someone a break
☆
Informal
to stop treating harshly, critically, etc.