broken

bro·ken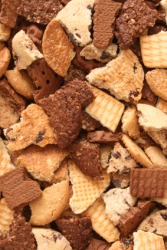 A pile of broken cookies.
adjective
The definition of broken is split, out of order, or not continuous.

An example of broken used as an adjective is the phrase "a broken home," which means a home where the father and mother are not living together.
An example of broken used as an adjective is the phrase "broken watch," which means a watch that is not keeping accurate time.
---
broken
pp. of break
Origin of broken
Middle English from Old English
brocen,
past participle of
brecan,
break
split or cracked into pieces; splintered, fractured, burst, etc.
not in working condition; out of order: a broken watch
not kept or observed; violated: a broken promise
disrupted, as by divorce: a broken home
sick, weakened, or beaten: broken health, a broken spirit
bankrupt
not even or continuous; interrupted: broken terrain, broken tones
not complete: a broken set of Shakespeare's works
imperfectly spoken, esp. with reference to grammar and syntax: broken English
subdued and trained; tamed

Informal

demoted in rank
---
broken
verb
adjective
Forcibly separated into two or more pieces; fractured: a broken arm; broken glass.
Sundered by divorce, separation, or desertion of a parent or parents: children from broken homes; a broken marriage.
Having been violated: a broken promise.

a. Incomplete: a broken set of books.

b. Being in a state of disarray; disordered: troops fleeing in broken ranks.

a. Intermittently stopping and starting; discontinuous: a broken cable transmission.

b. Varying abruptly, as in pitch: broken sobs.

c. Spoken with gaps and errors: broken English.

Topographically rough; uneven: broken terrain.

a. Subdued totally; humbled: a broken spirit.

b. Weakened and infirm: broken health.

Crushed by grief: died of a broken heart.
Financially ruined; bankrupt.
Not functioning; out of order: a broken washing machine.
Related Forms:
---
broken

Verb
past participle of break
Adjective
(comparative more broken, superlative most broken)
Usage notes
Nouns to which "broken" is often applied: glass, vase, cup, mirror, window, bone, wing, leg, arm, hand, foot, heart, egg, tool, sword, column, road, bridge, stick, device, machine, camera, TV, car, computer, promise, vow, law, trust, dream, relationship, friendship, love, family, marriage, bond, tie, silence, ground, land, circle, image, language, spirit, soul.
Proper noun
(pejorative, politically incorrect) Torres Strait Creole.
Origin
Back-formation from broken English.
---
broken - Computer Definition
Not working properly. The term applies to software as well as hardware. If software is "broken," it means there is a bug in it. It may mean that people are having difficulty using it, because of poor design or cryptic error messages, in which case some parts of all software are "broken." See bug.
---