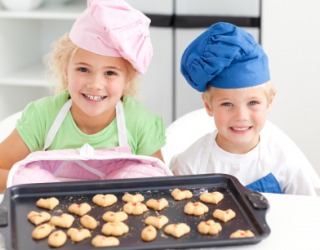 These children made cookies.
adjective
The definition of made is invented or created, often in a particular manner.

An example of made used as an adjective is in the phrase "hand made" which means made by hand.
verb
To have made is defined as to have created something.

An example of made is to have baked cookies yesterday.
---
made
constructed; shaped; formed; manufactured: a well-made play, Swiss-made knife
produced artificially: made ground, from filling in a swamp
invented; contrived: a made word

Now Rare

prepared from various ingredients: a made dish
sure of success: a made man
have (got) it made
Informal
to be assured of success, prosperity, contentment, etc.
---
made
verb
Past tense and past participle of
make
adjective
Produced or manufactured by constructing, shaping, or forming. Often used in combination: handmade lace; ready-made suits.
Produced or created artificially: bought some made goods at the crafts fair.
Having been invented; contrived: These made excuses of yours aren't plausible.
Assured of success: a made man.
---
made

---