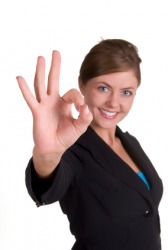 This woman gives the sign for OK!
adjective
The definition of OK is all right or correctly.

An example of OK used as an adjective is in the phrase "OK job," which means a job that was done correctly.
adverb
Ok means all right or correctly.

An example of OK used as an adverb is in the phrase "speaks OK," which means speaks correctly.
interjection
OK is defined as all right.

An example of OK used as an interjection is in the sentence, "OK! I will be right there!" which means "All right! I will be right there!"
noun
OK is an approval.

An example of OK used as a noun is in the sentence, "He gave the OK for the project to begin," which means that he said it was fine for the project to begin.
verb
OK is defined as to approve.

An example of OK is to approve a conference proposal.
---
OK
or O.K.
correct; acceptable: it's OK to wear casual dress to the party
adequate; satisfactory; good enough: the entree was OK, but dessert was excellent
in satisfactory or good condition: are you feeling OK today?
comfortable; satisfied: I'm OK with waiting until tomorrow
Origin of OK
origin, originally United States informal: first known use (March 23, 1839) by C. G. Greene, editor, in the Boston
Morning Post,
as if abbreviation, abbreviated for "oll korrect," facetious misspelling of
all correct;
uncertain or unknown; perhaps altered from Scottish dialect, dialectal
och aye,
ah yes, oh yes from Gaelic
och,
ah, oh + aye
yes; very well: used in reply to a question or to preface or resume one's remarks: OK, I'll go first
acceptably; satisfactorily: am I dressed OK for this restaurant?
is that acceptable, agreeable, etc. to you?: used, as at the end of a sentence, to ask a question: we'll have dinner after the movie, OK?
yes; good, agreed, etc.: used to express satisfaction, agreement, pleasure, etc.: "Let's leave right away!" "OK!"
used to express comprehension or acknowledgment of another's statement, explanation, etc.: "I'll put your umbrella back in the closet." "OK."
noun
pl.

OK's

or

O.K.'s
approval; endorsement
transitive verb
OK'd

or

O.K.'d

,

OK'ing

or

O.K.'ing
to approve or endorse, as by writing "OK" on
---
OK
or o·kay Informal
adjective
a. Satisfactory or agreeable; acceptable: Was everything OK with your stay?

b. Correct: That answer is OK.

c. Barely satisfactory; mediocre: made an OK presentation.

a. In proper or satisfactory operational or working order: Is the battery OK?

b. Uninjured or not seriously injured: The skier fell but was OK.

c. Fairly healthy: Thanks to the medicine, the patient is OK now.
noun
pl.
OK's,
or
o·kays
Approval; agreement: Get your supervisor's OK before taking a day off.
adverb
Fine; well enough; adequately: a television that works OK despite its age.
interjection
Used to express approval or agreement.
transitive verb
OK'ed,
or
OK'd
OK'·ing, OK's,
or
o·kayed
o·kay·ing
o·kays
To approve of or agree to; authorize.
Origin of OK
Abbreviation of
oll korrect
slang respelling of
all correct
Word History:
OK
is a quintessentially American term that has spread from English to many other languages. Its origin was the subject of scholarly debate for many years until Allen Walker Read showed that
OK
is based on a joke of sorts.
OK
is first recorded in 1839 but was probably in circulation before that date. During the 1830s there was a humoristic fashion in Boston newspapers to reduce a phrase to initials and supply an explanation in parentheses. Sometimes the abbreviations were misspelled to add to the humor.
OK
was used in March 1839 as an abbreviation for
all correct,
the joke being that neither the
O
nor the
K
was correct. Originally spelled with periods, this term outlived most similar abbreviations owing to its use in President Martin Van Buren's 1840 campaign for reelection. Because he was born in Kinderhook, New York, Van Buren was nicknamed
Old Kinderhook,
and the abbreviation proved eminently suitable for political slogans. That same year, an editorial referring to the receipt of a pin with the slogan
O.K.
had this comment:
"frightful letters … significant of the birth-place of Martin Van Buren, old Kinderhook, as also the rallying word of the Democracy of the late election, 'all correct'&ellipsis4; Those who wear them should bear in mind that it will require their most strenuous exertions … to make all things O.K."
---
ok

Adjective
(informal) Alternative capitalization of OK
Verb
(third-person singular simple present OKs, present participle OKing, simple past and past participle OKed)
To approve.

I don't want to OK this amount of money.
Interjection
Used to indicate acknowledgement or acceptance.

I promise to give it back. Reply: OK.
Let's meet again this afternoon. Reply: OK.
Shut up! Reply: OK, OK.

An utterance expressing exasperation, similar to "all right!"

OK! I get it! Stop nagging me!

Used to introduce a sentence in order to draw attention to the importance of what is being said.

OK, I'm thinking of a number...
Origin
Of unclear origin. Wikipedia lists several possibilities. it may be an abbreviation of a comical spelling of "all correct" as "oll korrect", such as first appeared in print in The Boston Morning Post on March 23, 1839, as part of a fad for similar fanciful abbreviations in the United States during the late 1830s.
Proper noun
Acronym of Oklahoma, a state of the United States of America.
---
ok - Computer Definition
A common on-screen button that must be clicked to confirm that some process can proceed. OK (or Okay) is also displayed on messages when no further action is required in order to keep the information on screen until the user has read it.
---