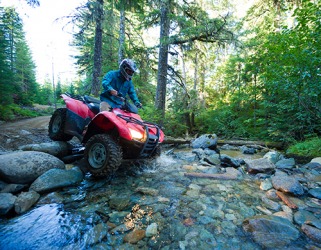 An ATV is the type of vehicle suitable for traversing rugged, off-road trails.
adjective
Rugged is defined as durable or sturdy, or a rough terrain or landscape.

A big Jeep made for off-roading and going outdoors is an example of a rugged car.
A rocky, rough and mountainous landscape is an example of a rugged landscape.
---
rugged
having irregular projections and depressions; uneven in surface or contour; rough; wrinkled: rugged ground, a rugged coast
strong, irregular, and wrinkled: said of the face or facial features
stormy; tempestuous: rugged weather
sounding harsh: rugged tones
severe; harsh; hard; stern: a rugged life
not polished, cultivated, refined, or elegant; rude: rugged manners
strong; robust; sturdy; vigorous

Informal

requiring great skill, strength, endurance, etc.: a rugged test
Origin of rugged
ME, rough, shaggy, probably from Scand, as in Swedish
rugga,
to roughen: for Indo-European base see rug
---
rugged
adjective
Having a rough irregular surface: rugged terrain.
Having strong features marked with furrows or wrinkles: the rugged face of the old sailor.
Having a sturdy build or strong constitution: a rugged trapper who spent months in the wilderness.
Tempestuous; stormy: the rugged weather of the North Atlantic.
Demanding great effort, ability, or endurance: the rugged conditions of barracks life.
Lacking culture or polish; coarse and rude: rugged manners and ribald wit.
Origin of rugged
Middle English
shaggy
of Scandinavian origin
Related Forms:
---
rugged

Adjective
(comparative ruggeder, superlative ruggedest)
Rough with bristles or hair; shaggy.
(of a person) strong, sturdy, well-built
Harsh; austere; hard; crabbed; -- said of temper, character, and the like, or of persons.
Sour; surly; frowning; wrinkled; -- said of looks, etc.
Violent; rude; boisterous; -- said of conduct, manners, etc.
Vigorous; robust; hardy; -- said of health, physique, etc.
(computing, of a computer) designed to reliably operate in harsh usage environments and conditions
Origin
From Middle English rugged, roggyd, ruggyd, from Old Provençal rugat ("creased, wrinkled"), from Old Provençal ruga ("crease, wrinkle").
Adjective
(not comparable)
Having a rug or rugs.
Covered with a rug.
Verb
Simple past tense and past participle of rug.
---