noun
The definition of a rug is a woven piece of heavy fabric used to cover part of a floor, or is slang for a toupee.

An example of a rug is a large floor covering under a dining table and chairs.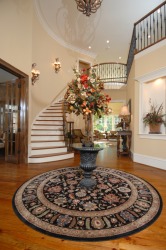 A round rug in the middle of a foyer.
---
rug
noun
a piece of thick, often napped fabric, woven strips of rag, an animal skin, etc. used as a floor covering: usually distinguished from carpet in being a single piece of definite shape, not intended to cover the entire floor
lap robe
☆

Slang

a toupee
Origin of rug
; from Scandinavian as in Norwegian dialect, dialectal
rugga,
coarse coverlet, Swedish
rugg,
shaggy hair, Old Norse
rǫgg,
long hair ; from Indo-European base an unverified form
reu-,
to tear out: see rude
---
rug
noun
A floor covering consisting of a piece of heavy fabric, especially one that does not cover the floor's entire surface.
An animal skin used as a floor covering.
Chiefly British A piece of thick, warm fabric or fur used as a coverlet or lap robe.
Slang A toupee.
Origin of rug
Of Scandinavian origin
.
---
rug
Noun
(plural rugs)
A partial covering for a floor.
A kind of coarse, heavy frieze, formerly used for clothing.
A rough, woolly, or shaggy dog.
Usage notes
(partial floor covering): The terms rug and carpet are not precise synonyms: a rug covers part of the floor; a carpet covers most or a large area of the floor; a fitted carpet runs wall-to-wall.
Verb
(third-person singular simple present rugs, present participle rugging, simple past and past participle rugged)
---