adjective
The definition of delicate is someone or something that is subtle, fragile, frail or a skilled example of something.

An example of delicate is an unboiled egg.
An example of delicate is a finally spun piece of glass.
An example of delicate is a light and delicious cream sauce.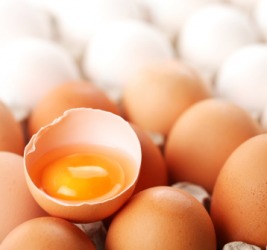 Eggs are delicate.
---
delicate definition by Webster's New World
adjective
pleasing in its lightness, mildness, subtlety, etc.: a delicate flavor, odor, or color
beautifully fine in texture, quality, or workmanship: delicate linen, delicate skin
slight and subtle: a delicate difference
easily damaged, spoiled, or disordered: a delicate vase, a delicate stomach
frail in health: a delicate child

needing careful handling, tact, etc.: a delicate situation
showing tact, consideration, etc.

finely sensitive in feeling, understanding, discriminating, or responding: a delicate ear for music, a delicate gauge
finely skilled
having or showing a sensitive or, sometimes, finicky distaste for what is considered offensive or improper
Origin: Middle English delicat ; from Classical Latin delicatus, giving pleasure, delightful ; from an unverified form delicare, for Old Latin delicere, to allure, entice ; from de-, intensive plush lacere: see delight
noun
Archaic
a delicacy; dainty
Webster's New World College Dictionary Copyright © 2010 by Wiley Publishing, Inc., Cleveland, Ohio. Used by arrangement with John Wiley & Sons, Inc.
---
delicate definition by American Heritage Dictionary
adjective
Pleasing to the senses, especially in a subtle way: a delicate flavor; a delicate violin passage.
Exquisitely fine or dainty: delicate china.
Frail in constitution or health.
Easily broken or damaged: a kite too delicate to fly.
Marked by sensitivity of discrimination: a critic's delicate perception.

a. Considerate of the feelings of others.

b. Concerned with propriety.

c. Squeamish or fastidious.

Requiring tactful treatment: a delicate situation.
Fine or soft in touch or skill: a surgeon's delicate touch.
Measuring, indicating, or responding to very small changes; precise: a delicate set of scales.
Very subtle in difference or distinction.
Origin: Middle English delicat and French délicat, both from Latin dēlicātus, pleasing; akin to dēlicia, pleasure; see Delicious .
Related Forms: