robust

ro·bust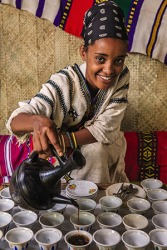 An Ethopian woman pouring robust coffee into cups.
adjective
The definition of robust is a strong and healthy person or animal, something rich and full of flavor or an activity that requires someone strong and healthy to complete.

An example of robust is a winning race horse.
An example of robust is strong coffee.
An example of robust is masonry work.
---
robust
strong and healthy; full of vigor; hardy
strongly built or based; muscular or sturdy

suited to or requiring physical strength or stamina: robust work
rough; coarse; boisterous
full and rich, as in flavor: a robust port wine
Origin of robust
Classical Latin
robustus,
oaken, hard, strong from
robur,
hard variety of oak, hardness, strength, earlier
robus,
probably akin to
ruber,
red
---
robust
adjective
Full of health and strength; vigorous. See Synonyms at healthy.
Powerfully built; sturdy: a robust body.
Requiring or characterized by much strength or energy: a robust workout.

a. Active or dynamic: a robust debate; a robust economy.

b. Working in an effective way; effective or productive: a robust search engine; a robust hypothesis.

Marked by richness and fullness; full-bodied: a robust wine.
Substantial in amount: robust gains in stock prices.
Rough or crude; coarse: a robust tale.
Origin of robust
Latin
rōbustus
from
rōbur, rōbus
oak, strength
; see
reudh-
in Indo-European roots.
Related Forms:
---
robust

Adjective
(comparative robuster, superlative robustest)
Evincing strength; indicating vigorous health; strong; sinewy; muscular; vigorous; sound; as, a robust body; robust youth; robust health.

He was a robust man of six feet four.

Sensible (of intellect etc.); straightforward, not given to or confused by uncertainty or subtlety;
(systems engineering) Designed or evolved in such a way as to be resistant to total failure despite partial damage.
(software engineering) Resistant or impervious to failure regardless of user input or unexpected conditions.
(statistics) Not greatly influenced by errors in assumptions about the distribution of sample errors.
Usage notes
"More" and "most robust" are much more common than the forms ending in "-er" or "-est".
Origin
From Latin rōbustus, from rōbur, rōbus ("strength", "hard timber", "oak").
---
robust - Computer Definition
Refers to software without bugs that handles abnormal conditions well. It is often said that there is no software package totally bug free. Any program can exhibit odd behavior under certain conditions, but a robust program will not lock up the computer, cause damage to data or send the user through an endless chain of dialog boxes without purpose. Whether or not a program can be totally bug free will be debated forever. See industrial strength.
---