adjective
The definition of infirm is being sickly or weak, or not strong in will or character.

An old and sickly person is an example of someone who is infirm.
When you cannot make or stick to a decision and are weak-willed, this is an example of being infirm.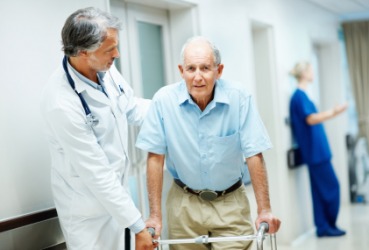 A doctor assists an infirm man.
---
infirm
adjective
not firm or strong physically; weak; feeble, as from old age
not firm in mind or purpose; not resolute; vacillating
not stable, firm, or sound; frail; shaky, as a structure
not secure or valid: an infirm title to property
Origin of infirm
Middle English ; from Classical Latin
infirmus
---
infirm
adjective
Weak in body or mind, especially from old age or disease. See Synonyms at weak.
Not strong or stable; shaky: an infirm foundation.
Archaic Lacking firmness of will, character, or purpose; irresolute.
Origin of infirm
Middle English
infirme
, from Old French, from Latin
īnfirmus
:
in-
,
not
; see
in–
1
+
firmus
,
strong, firm
; see
dher-
in Indo-European roots.
Related Forms:
---
infirm
---