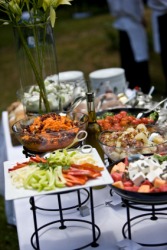 A table set with delicious food.
adjective
The definition of delicious is something that tastes or smells really good or is enjoyable.

An example of delicious is how a house smells after someone has been baking cookies all day.
An example of delicious is potato chips.
---
delicious
very enjoyable; delightful: a delicious bit of gossip
very pleasing to the senses, esp. to taste or smell
Origin of delicious
Middle English from Old French
delicieus
from Classical Latin
deliciosus
from
deliciae
, delight from Old Latin
delicere
: see delicate
[D-] a variety of sweet, chiefly red or yellow winter apple
---
delicious
adjective
Highly pleasing or agreeable to the senses, especially of taste or smell.
Very pleasant; delightful: a delicious revenge.
Origin of delicious
Middle English
from
Anglo-Norman
from
Late Latin
dēliciōsus
pleasing
from
Latin
dēlicia
pleasure
dē-
intensive pref.
; see
de-
.
lacere
to entice
Related Forms:
Delicious
noun
Either of two varieties of apple, the Golden Delicious or the Red Delicious.
---
delicious

Adjective
(comparative more delicious, superlative most delicious)
(colloquial) Metaphorically pleasing to taste; pleasing to the eyes or mind.
Origin
Middle English delicious, from Anglo-Norman delicious from Old French delicious, delicieus, from Late Latin dēliciōsu ("delicate, delicious") from dēliciae ("delights"), plural of dēlicia ("pleasure") from deliciō ("I allure, I entice") from de- ("away") + laciō ("I lure, I deceive"). Displaced native Middle English este ("delicious, favorable") (from Old English ēste ("delicious, dainty, luxurious, delicate")), Middle English wunlic, wunli ("delicious, joyous") (from Old English wynlīċ ("pleasant, beatiful, joyful")), Old English ēstelīc ("delicious, delicate, dainty").
---
delicious - Computer Definition
---