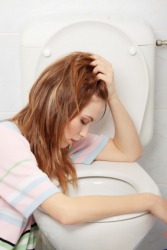 This woman is very nauseous.
adjective
The definition of nauseous is a feeling of being sick and feeling as if you need to vomit, or something disgusting or sickening.

A pregnant woman who feels as if she has to throw up all the time is an example of someone who may be nauseous.
When the smell of rotting milk fills your home, this is an example of a nauseous odor.
---
nauseous
causing nausea; specif.,

sickening
disgusting

feeling nausea; nauseated: usage still objected to by some
Origin of nauseous
Classical Latin
nauseosus
---
nauseous
adjective
Causing nausea; sickening: "the most nauseous offal fit for the gods" ( John Fowles )
Affected with nausea.
Related Forms:
Usage Note: Traditional usage lore has insisted that nauseous should be used only to mean "causing nausea" and that it is incorrect to use it to mean "feeling sick to one's stomach." Back in 1965, the Usage Panel was in step with this thinking, with 88 percent rejecting the "feeling sick" meaning of nauseous in the sentence Roller coasters make me nauseous, preferring nauseated instead. Over the years, however, this attitude has shifted dramatically. The proportion of Panelists who disapproved of this same sentence dropped to 72 percent in 1988, 39 percent in 1999, and a slim 23 percent in 2013. This change may have been inevitable once people began to think that nauseous did not properly mean "causing nausea." Even in our 1988 survey, this was the case, as 88 percent preferred nauseating in the sentence The children looked a little green from too many candy apples and nauseating (not nauseous ) rides. In 2013, the Panel was presented with this sentence using the word nauseous, and only 30 percent found it acceptable. Since there is abundant evidence for the "feeling sick" use of nauseous, the word presents a classic example of a word whose traditional, "correct" usage has largely been supplanted by a newer, "incorrect" one. In other words, what was once considered an error is now standard practice. Nauseous is now far more common than nauseated in describing the sick feeling.
---
nauseous

Adjective
(comparative more nauseous, superlative most nauseous)
Causing nausea; sickening or disgusting.
(nonstandard) Afflicted with nausea; sick.
Usage notes
While "nauseous" is often used to mean "afflicted with nausea", this is considered less correct than the first definition. The Elements of Style, for example, recommends not to "say 'I feel nauseous,' unless you are sure you have that effect on others."
Origin
From Latin nauseosus, corresponding to nausea + -ous.
---