adjective
The definition of noisome is harmful, or bad smelling.

An example of something noisome is a gas that is coming from a toxic waste dump; noisome gas.
An example of a noisome smell is the smell of a disgusting trash can.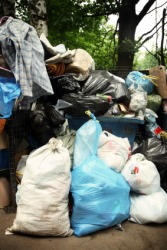 A noisome trash pile.
---
noisome definition by Webster's New World
adjective
injurious to health; harmful
having a bad odor; foul-smelling
Origin: Middle English noyesum ; from noy, aphetic ; from anoy ; from Old French anoi: see annoy and amp; -some
Webster's New World College Dictionary Copyright © 2010 by Wiley Publishing, Inc., Cleveland, Ohio. Used by arrangement with John Wiley & Sons, Inc.
---
noisome definition by American Heritage Dictionary
adjective
Offensive to the point of arousing disgust; foul: a noisome odor.
Harmful or dangerous: noisome fumes.
Origin: Middle English noiesom : noie, harm (short for anoi, annoyance, from Old French, from anoier, to annoy; see annoy) + -som, adj. suff.; see -some1.
Related Forms: