noisome

noi·some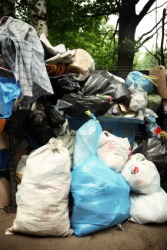 A noisome trash pile.
adjective
The definition of noisome is harmful, or bad smelling.

An example of something noisome is a gas that is coming from a toxic waste dump; noisome gas.
An example of a noisome smell is the smell of a disgusting trash can.
---
noisome
injurious to health; harmful
having a bad odor; foul-smelling
Origin of noisome
Middle English
noyesum
from
noy
, aphetic from
anoy
from Old French
anoi
: see annoy and -some
---
noisome
adjective
Offensive to the point of arousing disgust; foul: a noisome odor.
Harmful or dangerous: noisome fumes.
Origin of noisome
Middle English
noiesom
noie
harm
(
short for
anoi
annoyance
) (
from
Old French) (
from
anoier
to annoy
; see
annoy
. )
-som
adj. suff.
; see
-some
1
.
Related Forms:
Usage Note: People sometimes assume that noisome means "noisy," because the two words sound similar. But in our 2011 survey, 89% of the Usage Panel found the sentence We could barely hear each other with the noisome helicopter overhead to be unacceptable. If you use noisome as a synonym for noisy, there's a good chance that others will misinterpret your words and think you're describing someone or something as being offensive or harmful.
---
noisome

Origin
From Middle English noy (short for annoy, from an(n)oien, enoien from Anglo-Norman anuier, from Old French enuier (French: ennuyer), from Late Latin inodiare (to make hateful), from in- (intensive prefix) + odium (hate).
---