queasy

quea·sy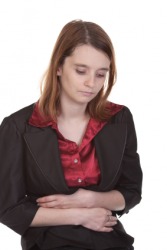 This woman is feeling queasy.
adjective
The definition of queasy means sick to your stomach or nauseous, or being slightly worried or nervous about something.

If you feel like you need to throw up, this is an example of a time when you feel queasy.
If you are nervous about giving a speech in front of your class, this is an example of a time when you feel queasy about giving a speech.
---
queasy
adjective
-·sier

,

-·si·est
causing nausea
affected with nausea
squeamish; qualmish; easily nauseated or disgusted
causing or feeling discomfort; uneasy

Archaic

difficult to please; fastidious

Archaic

troublous; hazardous
Origin of queasy
Late Middle English
qwesye
from Germanic echoic base, as in Low German dialect, dialectal
quesen,
to grumble, grouse
---
queasy
also quea·zy
adjective
quea·si·er, quea·si·est,
also
quea·zi·er
quea·zi·est
Experiencing nausea; nauseated.
Easily nauseated.
Causing nausea; sickening: the queasy lurch of an airplane during a storm.

a. Causing uneasiness.

b. Uneasy; troubled.

a. Easily troubled.

b. Ill at ease; squeamish: "He is not queasy about depicting mass violence, in some circumstances, as a legitimate instrument of social transformation" ( Shaul Bakhash )
Origin of queasy
Middle English
coisy
perhaps of Scandinavian origin
Related Forms:
---
queasy

Origin
From Middle English coysy, possibly from Old Norse kveisa ("boil") (> Norwegian kveise/kvise), perhaps influenced by Anglo-Norman queisier, from Old French coisier ("to wound, hurt, make uneasy").
---