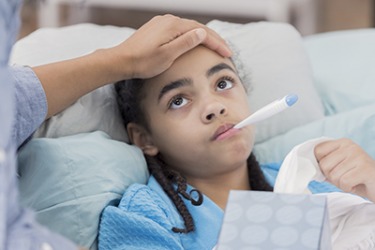 Sarita is sick with a fever so she can't go to school today.
adjective
The definition of sick is to have an illness, to be tired of something or sorrowful about something.

An example of sick is having the flu.
An example of sick is being tired of going shopping.
An example of sick is to be annoyed at constantly being lied to by an employee.
noun
Sick is defined as a group of people collectively who are ill.

An example of sick is the group of people in a cancer wing in a hospital.
---
sick
suffering from disease or illness; unwell; ill: in this sense, now rare or literary in England
having nausea; about to vomit or in the act of vomiting: the predominant sense in England
characteristic of or accompanying sickness: a sick expression
of or for sick people: sick leave
deeply disturbed or distressed; extremely upset, as by grief, disappointment, disgust, failure, etc.
disgusted by reason of excess; annoyed or exasperated: usually with of: sick of such excuses
in poor condition; impaired; unsound
having a great longing or nostalgia (for): sick for the hills
of sickly color; pale
having a discharge of the menses; menstruating
mentally ill or emotionally disturbed

Informal

sadistic, morbid, or abnormally unwholesome: a sick joke

Agric.

incapable of producing an adequate yield of a certain crop: wheatsick soil
infested with harmful microorganisms: a sick field
Origin of sick
Middle English
sik, seke
from Old English
seoc
, akin to German
siech
from Indo-European base an unverified form
seug-
, to be troubled or grieved from source Armenian
hiucanim
, (I) am weakening
sick to one's stomach
having nausea; about to vomit or in the act of vomiting
the sick
sick or ill people collectively
---
sick
adjective
sick·er, sick·est
a. Suffering from or affected with a physical illness; ailing.

b. Of or for sick persons: sick wards.

c. Nauseated.

a. Mentally ill or disturbed.

b. Unwholesome, morbid, or sadistic: a sick joke; a sick crime.

Defective; unsound: a sick economy.

a. Deeply distressed; upset: sick with worry.

b. Disgusted; revolted.

c. Weary; tired: sick of it all.

d. Pining; longing: sick for his native land.

a. In need of repairs: a sick ship.

b. Constituting an unhealthy environment for those working or residing within: a sick office building.

Unable to produce a profitable yield of crops: sick soil.
Slang Excellent; outstanding: did a sick run down the halfpipe.
noun
used with a pl. verb
Sick people considered as a group. Often used with the.
Chiefly British Vomit.
Origin of sick
Middle English
from
Old English
sēoc
---
sick

---