repugnant

re·pug·nant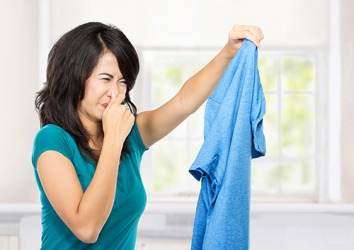 The repugnant odor from the shirt could only be eliminated by a thorough washing in hot, soapy water.
adjective
The definition of repugnant is something that is extremely offensive, contradictory or antagonistic.

An example of a repugnant odor is the smell of rotting milk.
An example of repugnant is someone doing something that is inconsistent with what they have said they were going to do.
An example of repugnant is a person who opposes a specific political position.
---
repugnant
contradictory; inconsistent: actions repugnant to his words
offering resistance; opposed; antagonistic: repugnant forces
causing repugnance; distasteful; offensive; disagreeable: a repugnant odor
Origin of repugnant
Middle English from Middle French from Classical Latin
repugnans
: see repugnance
---
repugnant
adjective
Arousing disgust or aversion; offensive or repulsive: morally repugnant behavior.
Logic Contradictory; inconsistent.
Origin of repugnant
Middle English
antagonistic
from
Old French
from
Latin
repugnāns
repugnant-
present participle of
repugnāre
to fight against
; see
repugn
.
Related Forms:
---
repugnant

Adjective
(comparative more repugnant, superlative most repugnant)
Usage notes
Nouns to which "repugnant" is often applied: act, nature, behavior, practice, character, thing, crime.
Origin
From Old French repugnant, borrowed from Latin repugnans, present participle of repugnare ("to oppose, to fight against"), from re- ("back, against") + pugnare ("to fight"); see pugnacious.
---