incompatible
in·com·pat·i·ble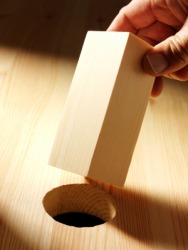 These shapes are incompatible.
adjective
The definition of incompatible is things or people that cannot coexist well or that do not go well together.

Two opposing ideas are an example of ideas that are incompatible.
A person who is very neat and a person who is very messy are examples of people who are incompatible.
---
incompatible
not compatible; specif.,

not able to exist in harmony or agreement
not going, or getting along, well together; incongruous, conflicting, discordant, etc.: often followed by with

that cannot be held at one time by the same person: said of positions, ranks, etc.

Logic

that cannot both be true at the same time: said of propositions
not predicable of the same subject without contradiction: said of terms

Math.

logically contradictory: said of equations or other statements
not suitable for being mixed or used together: said of substances having an undesirable action on each other or, when mixed, on the body
Origin of incompatible
Medieval Latin
incompatibilis
an incompatible person or thing: usually used in pl.
---
incompatible
adjective
a. Not capable of existing in agreement or harmony with something else: incompatible views on religion.

b. Not capable of living or working together happily or harmoniously; antagonistic: incompatible roommates.

Impossible to be held simultaneously by one person: the incompatible offices of prosecutor and judge.
Logic That cannot be simultaneously true; mutually exclusive.
Medicine

a. Producing an undesirable effect when used in combination with a particular substance: a medication that is incompatible with alcohol.

b. Not immunologically compatible: incompatible blood types.
noun
One that is incompatible.
Related Forms:
in′com·pat′i·ble·ness

noun
---
incompatible

Adjective
(comparative more incompatible, superlative most incompatible)
Of two things: impossible to coexist; not congruous because of differences; irreconcilable; disagreeing.
(chemistry) Incapable of being together without mutual reaction or decomposition, as certain medicines.
Noun
(plural incompatibles)
(medicine, chemistry, chiefly in the plural) An incompatible substance; one of a group of things that cannot be placed or used together because of a change of chemical composition or opposing medicinal qualities.

the incompatibles of iron
---