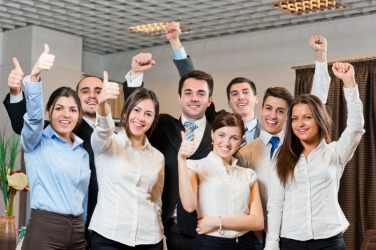 This looks like a friendly bunch.
adjective
The definition of friendly is someone or something exhibiting the characteristics of a friend, such as being kind, helpful or affectionate.

An example of a friendly gesture is smiling, waving and saying hello.
An example of a friendly person is someone who is always kind.
---
friendly
adjective
-·lier

,

-·li·est
like, characteristic of, or suitable for a friend, friends, or friendship; kindly
not hostile; amicable
supporting; helping; favorable: a friendly wind
showing friendly feelings; ready to be a friend

Informal

easy to use, operate, or understand: a friendly set of computer icons
Origin of friendly
Middle English
frendli
from Old English
freondlice
adverb
-·lier

,

-·li·est
in a friendly manner; as a friend
noun
pl.
-·lies
a person or thing that is friendly
-friendly
easily used or understood by: learner-friendly

helpful to or safe for: child-friendly
not harmful to: environment-friendly
---
friendly
adjective
friend·li·er, friend·li·est
a. Characteristic of or behaving as a friend: a friendly greeting; is friendly with his neighbors.

b. Outgoing and pleasant in social relations: a friendly clerk.

c. Favorably disposed; not antagonistic: a government friendly to our interests.

a. User-friendly.

b. Informal Easy to understand or use for a specified agent. Often used in combination: a reader-friendly novel; a consumer-friendly policy.

c. Informal Low in amount relative to a standard or regular circumstance. Often used in combination: carbohydrate-friendly.
adverb
In the manner of a friend; amicably.
noun
pl.
friend·lies
Informal
One fighting on or favorable to one's own side: "You're the only friendly we have there right now" ( Tom Clancy )
Related Forms:
---
friendly

Adjective
(comparative more friendly or friendlier, superlative most friendly or friendliest)
Generally warm, approachable and easy to relate with in character.

Your cat seems very friendly.

Inviting, characteristic of friendliness.

He gave a friendly smile.

Having an easy relationship with something, as in user-friendly etc.
Without any hostility.

a friendly competition
a friendly power or state

Promoting the good of any person; favourable; propitious.

a friendly breeze or gale

(military) Of or pertaining to friendlies (friendly noun sense 2, below). Also applied to other bipolar confrontations, such as team sports

The soldier was killed by friendly fire.

(number theory) Being or relating to two or more natural numbers with a common abundancy.

friendly numbers, friendly pairs, friendly n-tuples
Adverb
(comparative more friendly, superlative most friendly)
(now rare) In a friendly manner, like a friend.
Noun
(plural friendlies)
(sports) A game which is of no consequence in terms of ranking, betting etc.

Even as friendlies, derbies often arouse strong emotions

A person or entity on the same side of a conflict.
---