unfriendly

un·friend·ly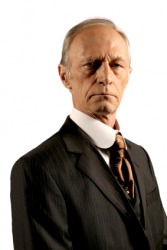 This man looks unfriendly.
adjective
The definition of unfriendly is defined as something unfavorable, or a grouchy or standoffish person.

An example of unfriendly is the character Ebenezer Scrooge in the book A Christmas Carol.
---
unfriendly
adjective
-·lier

,

-·li·est
not friendly or kind
hostile
not favorable or propitious
---
unfriendly
adjective
un·friend·li·er, un·friend·li·est
Not friendly.
Antagonistic or hostile: an unfriendly nation.
User-unfriendly.
Related Forms:
---
unfriendly

Adjective
(comparative unfriendlier or more unfriendly, superlative unfriendliest or most unfriendly)
Noun
(plural unfriendlies)
An enemy.
---