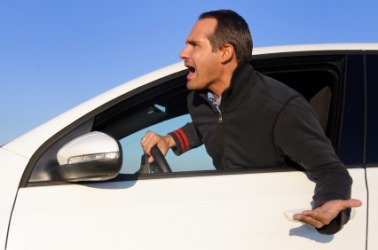 A hostile driver.
adjective
The definition of hostile is defined as aggressive, angry or unfriendly.

An example of hostile is walking up to a stranger on the street and screaming in their ear for no reason; a hostile act.
---
hostile
of or characteristic of an enemy; warlike
having or showing ill will; unfriendly; antagonistic
not hospitable or compatible; adverse

Finance

designating or of a takeover of a corporation against the wishes of its management
Origin of hostile
Classical Latin
hostilis
from
hostis
, enemy: see hospice
---
hostile
adjective
Of, relating to, or characteristic of an enemy: hostile forces; hostile acts.
Feeling or showing enmity or ill will: interpreted the remark as hostile.
Being in opposition; opposed: hostile to the proposal.
Unfavorable to health or well-being; inhospitable or adverse: a hostile climate.
noun
An antagonistic person or thing.
An enemy in warfare.
Origin of hostile
Latin
hostīlis
from
hostis
enemy
; see
ghos-ti-
in Indo-European roots.
Related Forms:
---
hostile

Adjective
(comparative more hostile, superlative most hostile)
Belonging or appropriate to an enemy; showing the disposition of an enemy; showing ill will and malevolence, or a desire to thwart and injure; occupied by an enemy or enemies; inimical; unfriendly

a hostile force
hostile intentions
a hostile country
hostile to a sudden change
Noun
(plural hostiles)
(chiefly in the plural) An enemy.
Origin
From Middle French hostile, from Latin hostīlis, from hostis ("enemy").
---