adjective
The definition of hostile is defined as aggressive, angry or unfriendly.

An example of hostile is walking up to a stranger on the street and screaming in their ear for no reason; a hostile act.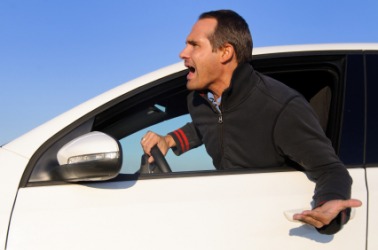 A hostile driver.
---
hostile definition by Webster's New World
adjective
of or characteristic of an enemy; warlike
having or showing ill will; unfriendly; antagonistic
not hospitable or compatible; adverse

Finance

of or relating to the acquisition of a corporation against the wishes of its management: a hostile takeover
Origin: Classical Latin hostilis ; from hostis, enemy: see hospice
Webster's New World College Dictionary Copyright © 2010 by Wiley Publishing, Inc., Cleveland, Ohio. Used by arrangement with John Wiley & Sons, Inc.
---
hostile definition by American Heritage Dictionary
adjective
Of, relating to, or characteristic of an enemy: hostile forces; hostile acts.
Feeling or showing enmity or ill will; antagonistic: a hostile remark.
Unfavorable to health or well-being; inhospitable or adverse: a hostile climate.
noun
An antagonistic person or thing.
An enemy in warfare.
Origin: Latin hostīlis, from hostis, enemy; see ghos-ti- in Indo-European roots.
Related Forms: