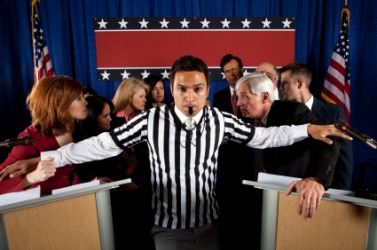 There is a great deal of friction between the politicians.
noun
The definition of friction is conflict or unease created when two people of opposing views or ideals come together or the resistance that occurs when surfaces rub together.

An example of friction is when Republicans and Democrats get together and discuss politics.
An example of friction is when rope rubs against your hand and you get rope burn.
---
friction
a rubbing, esp. of one object against another
ill will or conflict because of differences of opinion, temperament, etc.

Mech.

the resistance to motion of two moving objects or surfaces that touch
Origin of friction
French from Classical Latin
frictio
from past participle of
fricare
, to rub: see friable
---
friction
noun
The rubbing of one object or surface against another.
Conflict, as between persons having dissimilar ideas or interests; clash.
Physics A force that resists the relative motion or tendency to such motion of two bodies or substances in contact.
Origin of friction
Latin
frictiō
frictiōn-
from
frictus
past participle of
fricāre
to rub
Related Forms:
---
friction

coefficient of friction
static friction
dynamic friction
friction clutch
friction match
Origin
From Middle French friction and directly from Latin frictionem, nom. frictio ("a rubbing, rubbing down")
---