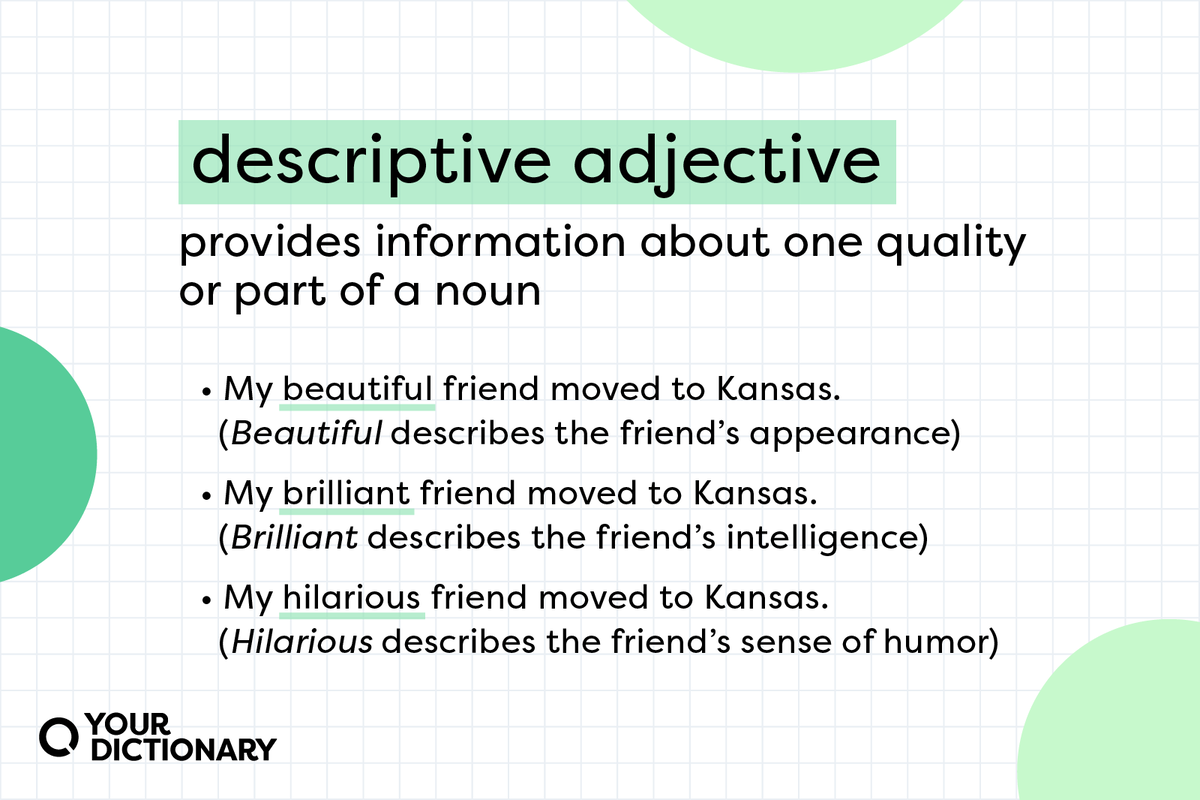 Descriptive adjectives describe things in a more interesting way. They make food seem delicious, people seem wonderful, and books seem fascinating — depending on the type of descriptive adjective (or adjectives) you use.
What Is a Descriptive Adjective?
Adjectives are words that describe nouns. Descriptive adjectives provide information about one quality or part of a noun.
My beautiful friend moved to Kansas.
(Beautiful describes the friend's appearance)

My brilliant friend moved to Kansas.
(Brilliant describes the friend's intelligence)

My hilarious friend moved to Kansas.
(Hilarious describes the friend's sense of humor)
You can use descriptive adjectives before the noun (my beautiful friend) or you can add them after the noun with a linking verb (my friend is beautiful).
Fast Fact
Not all adjectives are descriptive adjectives. Some types of adjectives are known as limiting adjectives, which specify which noun you're talking about rather than adding additional information.
Types of of Descriptive Adjectives
Descriptive adjectives can add more details about feelings and emotions, the taste of something, and a person's appearance. You might also use adjectives to describe sounds and time. 
Since they describe different aspects of a noun, you can use simple adjectives, compound adjectives, or proper adjectives — or all of them — to describe a noun.
Examples of Simple Adjectives
Simple adjectives are the most grammatically basic (and common) type of descriptive adjective.
aggressive
alert
ancient
anxious
attractive
average
bad
beautiful
beige
big
bitter
blue
bumpy
busy
careful
cheap
clear
cold
combative
cotton
crooked
dangerous
delicious
dry
dull
dusty
elderly
excited
expensive
fancy
fresh
fuzzy
graceful
granite
green
handsome
hollow
hot
hungry
lazy
low
massive
melodic
modern
new
oval
petite
puny
purple
quiet
rainy
rich
safe
shiny
soft
sore
strong
superior
terrible
tiny
tired
ugly
weak
weary
Examples of Compound Adjectives
Compound adjectives consist of two words connected by a hyphen. Using compound adjectives helps you get even more specific with your descriptions.
baby-faced
bow-legged
broken-hearted
bull-headed
four-sided
freckle-faced
hard-hearted
hard-nosed
heavy-handed
high-heeled
ice-cold
left-handed
life-giving
long-legged
long-winded
next-door
pigeon-toed
quick-witted
red-blooded
self-centered
short-tempered
sure-footed
thin-skinned
tight-fisted
Examples of Proper Adjectives
Proper adjectives come from proper nouns. They specify which nation, region, religion, or era a noun comes from.
American
Antarctic
Atlantic
Buddhist
Californian
Canadian
Chinese
Christian
Cuban
Ecuadorian
English
French
German
Greek
Hindu
Indonesian
Italian
Mayan
Mexican
Pacific
Peruvian
Roman
Romanian
Shakespearean
Spanish
Turkish
Victorian
Welsh
Putting Adjectives in Order
When using multiple descriptive adjectives in a sentence, there is an order in which you should arrange them. Adjectives that describe opinion typically precede adjectives that describe color, size, shape, and more. 
For example, the sentence "The ugly red office chair sat in the corner" is preferable to "The office red ugly chair sat in the corner."