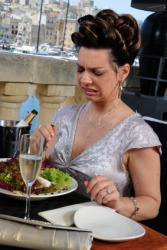 This woman finds her food unsavory.
adjective
The definition of unsavory is unpleasant, disagreeable or disreputable.

A group of teens that has a bad reputation that you do not want your kids hanging out with are an example of a group that would be described as unsavory.
Food that was poorly made and that has begun to go bad is an example of something described as unsavory.
---
unsavory
Obs.

without flavor; tasteless
unpleasant to taste or smell
unpleasant or offensive, esp. so as to seem immoral
---
unsavory
adjective
Distasteful or disagreeable: an unsavory task.
Not savory: an unsavory meal.
Morally offensive: an unsavory scandal.
Related Forms:
---
unsavory

Adjective
(comparative more unsavory, superlative most unsavory)
Usage notes
Nouns to which "unsavory" is often applied: reputation, character, aspect, element, practice, friend, tactics.
---