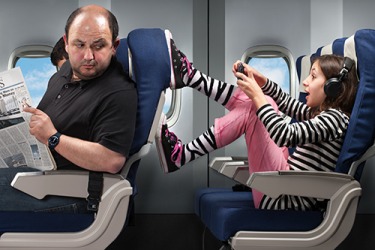 Tara didn't realize that she was being rude to the man in the next row when she was pushing the back his seat with her feet.
adjective
The definition of rude is behavior that does not conform to what society says would be polite or good manners or inappropriate subjects of discussion.

An example of rude is bumping into someone and not saying "Excuse me."
An example of rude is when you engage in an inappropriate discussion about sex.
---
rude
adjective
rud′er

,

rud′est
crude or rough in form or workmanship: a rude hut
barbarous or ignorant: rude savages

lacking refinement, culture, or elegance; uncouth, boorish, coarse, vulgar, etc.

Brit.

indecent; obscene: a rude joke

discourteous; unmannerly: a rude reply
rough, violent, or harsh: a rude awakening
harsh in sound; discordant; not musical: rude tones
having or showing little skill or development; primitive: rude drawings
not carefully worked out or finished; not precise: a rude appraisal
sturdy; robust; rugged: rude health
Origin of rude
Old French from Classical Latin
rudis,
akin to
rudus,
debris, rubble from Indo-European an unverified form
reud-,
to tear apart from base an unverified form
reu-,
to tear out, dig up from source rug, rotten
---
rude
adjective
rud·er, rud·est
Ill-mannered, discourteous, or insulting: was offended by his rude behavior.

a. Undeveloped or uncivilized; primitive: a rude and savage land.

b. Crude, unfinished, or made with limited skill: a rude thatched hut.

c. In a natural, raw state: bales of rude cotton.

Unpleasantly forceful or harsh: faced rude winds; received a rude shock.
Chiefly British Vigorous or robust: in rude health.
Archaic Lacking education or refinement: "They were so rude and ignorant … that very little could be learned from them" ( Samuel Johnson )
Origin of rude
Middle English
from
Old French
unrefined, harsh
from
Latin
rudis
in a natural state, crude, ignorant
Related Forms:
---
rude

Adjective
(comparative ruder, superlative rudest)
Origin
From Middle English, from Old French, from Latin rudis ("rough, raw, rude, wild, untilled").
---