savage

sav·age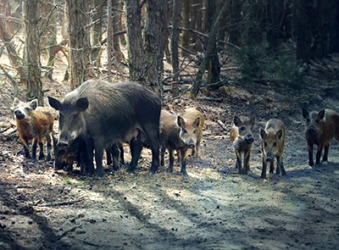 Wild boars, especially mothers with piglets, can initiate a savage attack if they are approached by people.
adjective
The definition of savage is something wild, untamed or primitive.

An example of savage used as an adjective is a savage beast that lives in the jungle.
---
savage
wild, uncultivated, rugged, etc.: a savage jungle
fierce; ferocious; untamed: a savage tiger
without civilization; primitive; barbarous: a savage tribe
lacking polish; crude; rude
cruel; pitiless
furious; ill-tempered
Origin of savage
Middle English
sauvage
from Old French
salvage
from Vulgar Latin
salvaticus
, wild from Classical Latin
silvaticus
, belonging to a wood, wild from
silva
, a wood: see sylvan
a member of a preliterate culture, often having a tribal way of life: now often avoided as patronizing or offensive
a fierce, brutal person
a crude, boorish person
transitive verb
-·aged

,

-·ag·ing
to attack in a violent or brutal way
---
savage
adjective
a. Not domesticated or cultivated; wild: a savage animal; the savage jungle.

b. Not civilized; barbaric: a savage people.

a. Vicious or merciless; brutal: a savage form of warfare.

b. Characterized by or showing hostility; unforgiving: savage criticism.

Extreme in strength or degree: savage heat.
noun
A member of a people regarded as primitive, uncivilized, brutal, or fierce.
transitive verb
sav·aged, sav·ag·ing, sav·ag·es
To assault ferociously.
To attack without restraint or pity: The critics savaged the new play.
Origin of savage
Middle English
sauvage
from
Old French
from
Late Latin
salvāticus
from
Latin
silvāticus
of the woods, wild
from
silva
forest
Related Forms:
---
savage

---